Pieniny Mountains is supposedly the most beautiful place to visit in Poland. Of course, it is arguable, as they are so many beautiful places in my country, but having said that, it is for sure a place worth visiit.
Here's a video from Pieniny I've made with my family in the summer of 2023.
What To See When Exploring Pieniny Mountains?
Pieniny are located in southern Poland and also partially in Slovakia. This region is full of amazing landscapes, natural attractions, and historical sites.
Tourists from all over the world come each year to visit it. If you're also planning a trip to this area, it's worth getting to know all about this place. I prepared a short video from our family trip to the Pieniny Mountains, and here is also a comprehensive guide to the region to fully enjoy it.
Dunajec Rafting
Dunajec rafting is one of the most well-known and popular attractions in the Pieniny Mountains. It is an unforgettable adventure. You get on a wooden raft that floats through the picturesque Dunajec Gorge. It's a journey deep into the mountainous nature.
As you raft down the river, you can see rocks rising on both sides of the river, creating amazing landscapes. The river is lazy at most times, and at some turns into a bit more of a raging river, but still is safe for all ages and sports levels.
Floating down the Dunajec River isn't just a chance to soak in the stunning nature; it's also an opportunity to explore the history and culture of the Pieniny region. This is one of the most popular tourist attractions in Poland and a fantastic way to enjoy the outdoors.
For more information about rafting visit the афіцыйны сайт
Chairlift Ride to Palenica
Palenica Polana is one of the highest points in the Pieniny Mountains and an excellent place for a family adventure. You get to the top with a chairlift, and that itself is already a lot of fun.
The views are beautiful and kids are having a great time there.
Once you reach the summit, you'll be rewarded with beautiful views of the region. There is also a playground for young once a place to rest and grab a bite.
Go To Spa and Mineral Water House in Szczawnica
Szczawnica is a well-known in Poland spa town with a long history. As you stroll through the town, you'll feel the unique atmosphere and learn about the history of this healing place.
Make sure to visit some of the local spas, to relax and rejuvenate. And it is a must to taste the mineral therapeutic water in the water hose. This waters that have brought relief to many people, take this advantage and try if it works for you as well.
Visit All The Attractions by Lake Czorsztyn
Czorszty?skie Lake is a paradise for water sports enthusiasts, and for those who seek relaxation by the water. Here, you can try sailing, kayaking, or rent a paddleboat. Along the lakeshore, you'll find many charming spots for rest and picnicking.
There is a bit of a sandy beach, offering a place for safe swim, and play by the lake side. However, the real gem is Czorsztyn Castle, the best view you will get from climbing up the Czorsztyn dam, but it is also worth taking a boat to look at the castle and surroundings from the water perspective.
Explore The Niedzica Castle
Niedzica Castle, also known as "Dunajec Castle," is a true gem of this region. It is perched on a hill above Czorsztyn Lake, and as I mentioned already, it offers breathtaking views of the surroundings. Take your time to visit the caste, the entry ticket is about 26 PLN. The castle is nearly nine hundred years old.
While visiting the castle, you'll learn about its history and the secrets it holds, there is a legend that a map of hidden Ink treasures is stored in a secret place in the castle walls. It's also worth visiting the nearby village of Niedzica, where you can experience the authentic mountain life atmosphere.
Go To The Peak Of The Pieniny Mountains
The Pieniny Mountains are a place of amazing natural beauty.
Let me tell you about the most popular peaks, to start with Trzy Korony.
It is the highest massif mountain the Pieniny Mountains. It has five peaks, with the tallest being Okr?glica at 982 meters above sea level. This peak has a viewing platform. The next peaks are P?aska Ska?a at 950 meters above sea level and Pa?ska Ska?a at 920 meters above sea level.
Trzy Korony is mostly popular from their viewpoint. This vantage point offers a breathtaking panorama of the Dunajec Valley and the magnificent Tatra Mountains, which are already on the Slovakia side of the borders.
Hike in the Pieniny Mountains
Sokolica
Sokolica is a captivating peak with well-marked trails, making it ideal for families. While the hike is relatively short, about 2 kilometers, starting from Szczawnica, be prepared for some steep sections that may require more time.
The paths take you alongside the river bank. Handrails have been installed on the steepest sections to aid in the ascent. It takes around an hour to reach the summit, making it a great choice for a family adventure.
Palenica
We also highly recommend ascending or taking a lift to Palenica (722 meters above sea level). There is a chairlift to access Palenica. The downside to the easy access is that this place is very popular and very busy with tourists.
Szafranówka
For those who love scenic locations, we recommend going on a hike to the Szafranówka peak (742 meters above sea level).
From its summit, you'll be able to enjoy a splendid panorama of the Pieniny Mountains, and the neighboring regions.
Walk Through The Homole Gorge
Пры вывучэнні ст Pieniny Mountains you should make a point to visit the Homole Gorge. What sets this place apart as a natural attraction? It is considered the most beautiful gorge in Poland.
The place offers a charming geological formation, and the paths take along the Kamionka stream, it's an extraordinary place.
The gorge leaves a profound impression, mainly due to its towering, steep, and mighty rocky walls. The paths are easily accessible to small children, but you will not be able to move there with a wheelchair or a stroller. The paths are muddy and full of stones, so it is slippery most of the time.
Make sure to wear appropriate shoes. The entire area is covered by a forest, but you can see expansive meadows above the gorge from almost every vantage point. Picturesque Pieniny Route
If you enjoy hiking or cycling, the Picturesque Pieniny Route is an ideal place to explore. This approximately 40 km-long trail takes you through the scenic areas of Pieniny. Along the way, you'll encounter many viewpoints where you can stop to admire the panoramas. It's an excellent way to enjoy outdoor activities surrounded by nature.
Go To Kro?cienko by the Dunajec River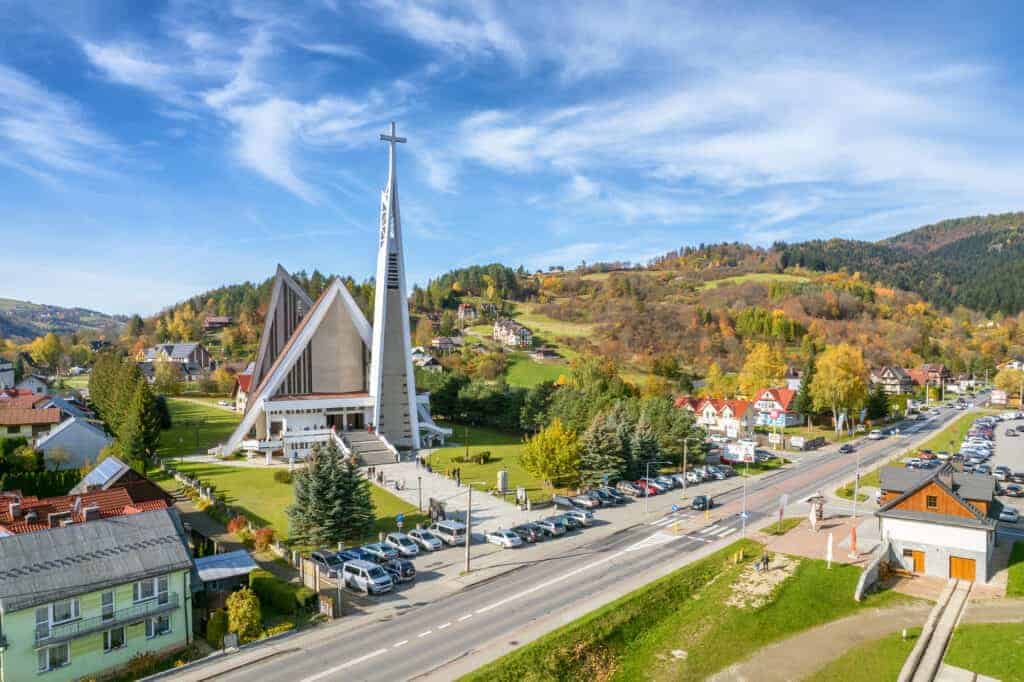 Kro?cienko nad Dunajcem – This small town is situated on the Dunajec River. Walking through its streets, you'll discover charming wooden and stone houses that create a unique atmosphere in this town. You'll feel as if time has stood still here.
Viewpoint on Gromadzina – This spot offers a magnificent view of Dunajec and the surrounding peaks. It's a great place for relaxation and watching the sunset.
Wonderful Landmark – St. Martin's Church in D?bno. It is a beautiful example of wooden sacred architecture. Its history dates back to the 15th century, and the interior is adorned with paintings and sculptures. Visiting this church allows you to immerse yourself in the historical spirit of Poland and understand the significance of sacred architecture for the culture of this region.
Get to Know Pieniny Highlanders' Culture
While exploring Pieniny, you'll come across the rich culture of Pieniny Highlanders. It's a community that has preserved its traditions for generations.
Some villages have retained their characteristic wooden buildings and organize local festivals and events that celebrate Highland customs. It's an excellent opportunity to experience local cuisine, music, and dances.
Visit The Pieniny Forest
Pieniny Forest is a nature reserve located on the Slovak side of Pieniny. It's an excellent place for hiking, where you can admire pristine nature, rare plant and animal species, and waterfalls.
From this side of Pieniny, you can also enjoy a different perspective of Czorszty?skie Lake.
Explore The Pieniny National Park
Pieniny National Park is a UNESCO biosphere reserve that protects unique ecosystems and the wild nature of Pieniny.
It's an ideal place for hiking in the mountains, bird-watching, and visiting mountain shelters. Make sure you always stay on the designated trail, and always remember that you are in the forests that belong to the wildlife.
Stay Fit With Sports Activities In the Pieniny Mountains
For sports enthusiasts, Pieniny offers plenty of opportunities. In the vicinity, you can engage in kayaking, horseback riding, climbing, mountain biking, and cross-country skiing in the winter. It's a great place to spend time outdoors.
Go To "Szopcza?ski Gorge" Educational Trail
Szopcza?ski George is a beautiful and wild part of Pieniny. The educational trail that leads through this area allows you to learn about the unique flora and fauna of the region.
Strolling along this trail, you can learn more about mountain ecosystems and protected plant and animal species.
Attend The Local Celebrations
Pieniny is a region full of traditions and celebrations. Check the calendar of regional events to perhaps participate in local festivals and celebrations.
It's an excellent opportunity to better understand the culture of this region. As you stroll done the town streets and villages, pay attention to local food and souvenirs, this will be best keepsake to take home from your trip.
Tips For Visiting Pieniny Mountains
Pieniny Are Worth Visiting In Every Season
Pieniny is a magical place that captivates visitors regardless of the season. In the summer, you can enjoy hiking, Dunajec rafting, and swimming in Czorszty?skie Lake.
In winter, Pieniny transforms into a snowy wonderland, perfect for cross-country skiing and winter hikes.
Pieniny in spring and autumn also offers unforgettable landscapes as nature awakens or prepares for its rest. The early spring and late autumn, when the trees have dropped their leaves is best to see naked and uncovered rocky mountains.
Pieniny Mountains Are Family-Friendly
Pieniny is an excellent destination for family trips. Many attractions are child-friendly, and the recreational areas by Czorszty?skie Lake, and the summit of Palenica provide great places for picnics and outdoor fun.
Many Places In Pieniny Are Wheelchair and Disability-Friendly
Pieniny also offers facilities for people with limited mobility. Here are some places and attractions that are accessible to individuals using baby strollers or wheelchairs:
Wheelchair-Friendly Trail – Kro?cienko
A specially marked hiking trail that allows easy walking for people with baby strollers and wheelchairs.
Dunajec Rafting – Accessibility for People with Disabilities
Many companies offering Dunajec rafting are accommodating to people with disabilities, providing rafts and boats adapted for wheelchairs.
Polana Palenica – Chairlift Accessibility
The Polana Palenica chairlift in Szczawnica is wheelchair accessible, allowing you to enjoy panoramic views of Pieniny.
Czorszty?skie Lake Loop Trail
This trail is adapted for baby strollers and wheelchairs, allowing you to explore the beautiful areas around the lake.
Recreational Areas by the Lakes
Recreational areas by Czorszty?skie and Sromowskie Lakes offer easy access for people with baby strollers and wheelchairs.
Castles and Historical Sites
Many castles and historical sites are accessible to people with disabilities, thanks to amenities such as elevators and suitable pathways.