You might think, that since Gdansk is located by the sea, there is not much to do here after the summer ends. But the truth is, visiting Gdańsk in winter is always a good idea. And I am about to give you some useful tips, on where to go, what to see, and what to expect from this city during winter.
What Is The Weather Like I In Gdańsk In Winter?
Winter in Gdańsk can be chilly, but it's still a great time to visit this charming city. From December to February, temperatures can range from -2°C to 3°C (28°F to 37°F), so be sure to pack warm clothing like coat, hat, scarf, and gloves.
It can rain at times, and there will be occasional snowfall, and the city looks especially beautiful coated in a fresh layer of snow.
Where To Go While Visiting Gdańsk In Winter
Visit Gdańsk Christmas Market
If you're looking for a magical winter experience, Christmas markets in Gdańsk's Old Town must be on your list. Held annually from mid-November to mid-January, take over Targ Węglowy (the 'Coal Market') and offers delights for all.
Traditional Polish pierogi, kielbasa, warming hot beer, and wine, there's plenty of it to keep you satisfied. Unique, gifts such as amber jewelry, toys, and scarves will make a great keepsake.
The backdrop of the historic buildings, with the Old Prison Tower and High Gate, adds to the charm of the Christmas village. Don't forget to capture it with the camera.
Stroll Down The Old Town Street
Don't let the cold weather and shorter days stop you from visiting Gdańsk in winter. With the first snowfall, Old Town transforms into a picturesque wonderland with its unique architecture.
Long Market Street, Neptune's Fountain, Artus' Court, the tower of Basilica of St. Mary, and High Gate are just some of the amazing architectural wonders that you will find in the Old Town. Some buildings within this part of the city might be even 500 years old.
Tip: Be careful while reading your map, The Old Town might be referred to as The Main City.
Museums
Similar to Warsaw, Gdansk offers great historical places and museums worth visiting. Gdańsk is the place where the II WW started, where Solidarity began.
When you come to visit Gdańsk in winter, or any other time of the year, take the opportunity and learn how it all started. Here is the list of museums worth visiting in Gdansk:
Oliwa Illuminationtion Park
Oliwa Park is transformed into a magical winter wonderland during the holiday season with the Holiday Lights display.
From mid-December to mid-February, you can enjoy strolling along the walking paths and admire the festive illuminations and holiday decorations.
Additionally, a Christmas Market nearby offers hot food and drinks, as well as handmade gifts and crafts. It's a must-see winter experience in Gdańsk.
Amber And Souvenirs Shops
You can find some of the world's best amber in Gdańsk. Amber is known for its beauty that has lasted for thousands of years, and its unique appearance makes each piece special.
There is no better keepsake to take home from Gdansk. Galeria Amber and Amber Chamber are two very popular places to shop from. They also have amber sculptures and souvenirs.
Spas And Saunas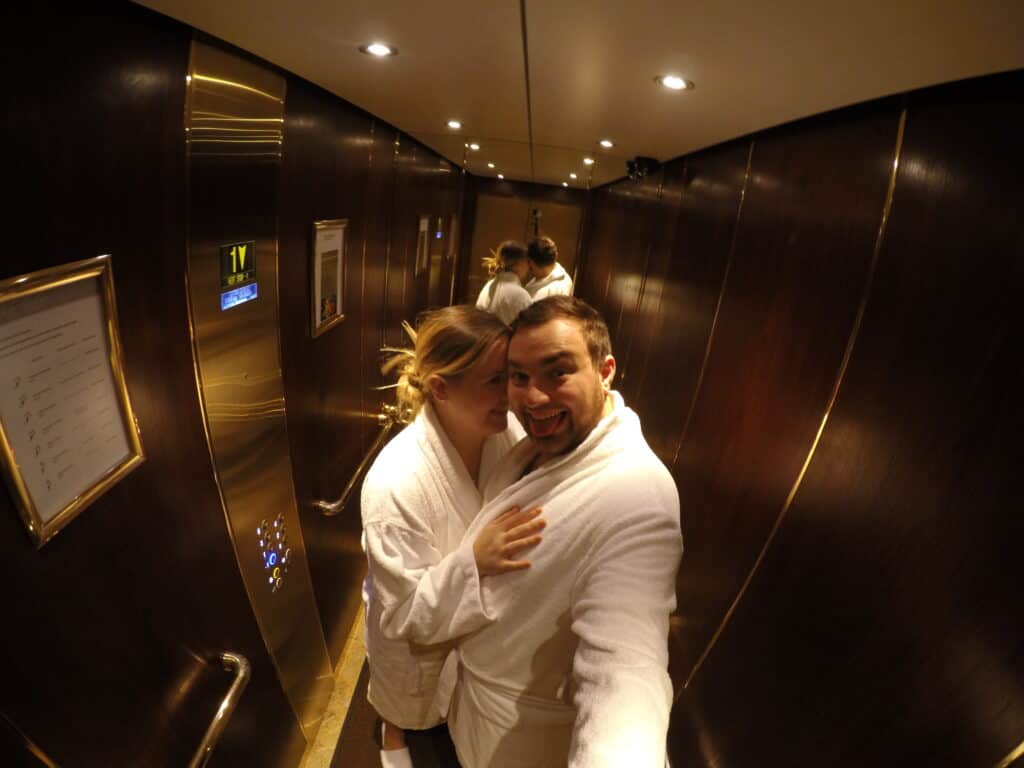 What if the weather gets too bad to go outside? Not a problem! Spend your day indoors being pampered at one of the finest spa resorts.
Some of them are even 200 years old! Sopot (part of the Tri-City with Gdansk and Gdynia), because of the therms, has become a popular city break destination.
Here is the list of the best resort within The Tri-City:
What To Do While Visiting Gdańsk In Winter
Ice Skating
Skating is a very popular winter activity in Poland. The City Ice Skating Rink is a very good choice while visiting Gdańsk in winter. There is about 3000m2 of ice to skate on! Yes, it is huge!
There are other Ice Skating Rinks and they are placed throughout the city. Usually, Ice Rinks offer skate rentals as well.
Skiing
"Lysa Gora" (Bold Hill). This is the place to go for skiing while visiting Gdańsk in winter. Locals spend there a lot of time during winter breaks. Neither long nor steep hill is perfect for beginners and kids. This is an organized winter sports spot, and it provides all the equipment such as skis, slides, snowboards, etc.
Winter Swimming
Although not everyone is keen to try this activity, there are quite many people that wait for winter to come, and then they go swimming.
"Jelitkowo" part of the city with long access to the beach is the place mostly used by winter swimmers. However, it would be a good idea to learn a bit about winter swimming, beforehand, if you are not familiar with it.
Walking on the beach
Gdańsk, especially the seafront, is usually very windy during winter. But the benefits of taking into fresh, Baltic air saturated with Iodine.
Jelitkowo is yet again the place to go. Long Beach with good access from the city offers a great possibility to spend time by the sea.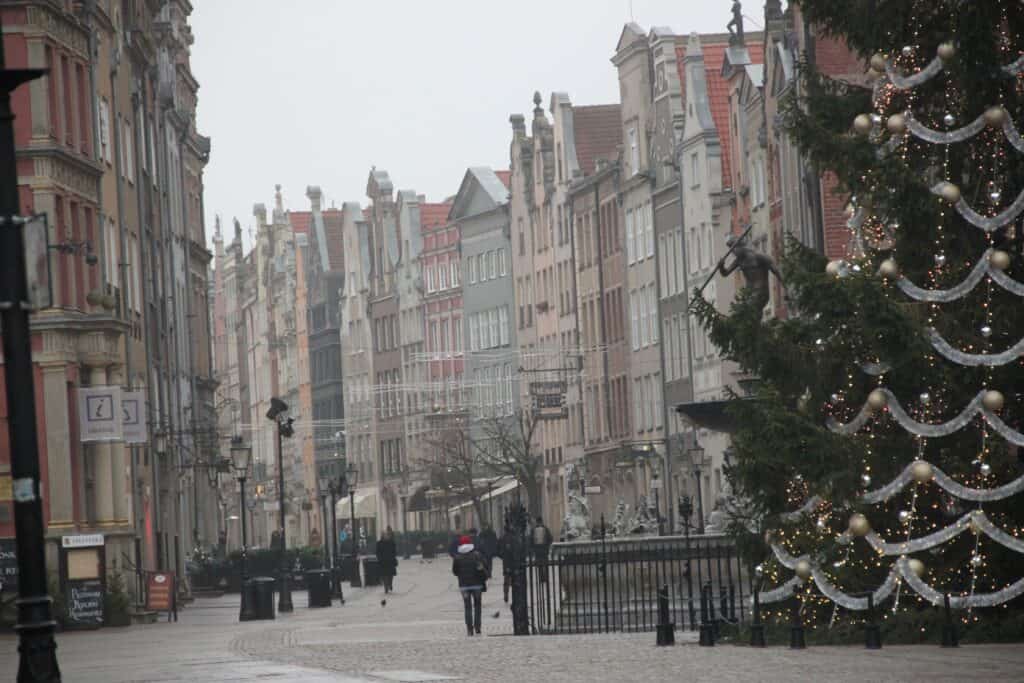 What To Eat While Visiting Gdańsk In Winter
Food Halls In Gdańsk
Food halls are a shared spaces with various bars and eateries where you can enjoy a meal with friends. It's an ideal destination if everyone in your group has different food preferences, as there are plenty of options available. There are four halls in Gdansk:
Slony Spichlerz – a bit pricey, located in The Main City near to Radisson Hotel and Holiday Inn
Stacja Food Hall -the best place to eat in Wrzeszcz -Gdansk located in Shopping Mall "Galeria Metropolitana"
100cznia – located in the old shipyard, a bit further away from the city center
Ulica Elektrykow –seemingly like 100cznia, away from the center and chip
Milk Bars
Milk Bars are popular in all Polish cities, they offer cheap, yet good quality food. Perfect to grab a fast lunch, warm up a bit, and continue sightseeing.
What is good to know about Milk Bars, there is no alcohol served, and there are no waiters on the service. The menu is written on the wall, and you can place the order at the counter.
Bar Neptun and Bar Turystyczny are well-known and trusted. You can try there typical Polish food, like dumplings, soups, pancakes, etc.
High-End Restaurants
There are many exclusive dining options in Gdańsk, and it can be challenging to choose from. However, given Gdańsk's coastal location and proximity to the Kaszuby region, I would suggest focusing on restaurants that serve fresh seafood.
Zafishowani Restaurant is one of the best options to choose from. But if you don't like fish, Ritz Restaurant or Fino is the place to go for a fancy meal.
Night Life And Cultural Events In Gdańsk In Winter
Gdańsk is a part of Tri-city and the whole Metropolis counts 800 thousand people. This city never sleeps, and there is always something to do there. Rich culturally, with many Universities attracting young people with diverse styles, the city offers a wide variety of entertainment.
Live music bars, exhibitions, street performers, nightclubs, and folkloric events offer a wide spectrum of events to suit even the most explicit taste. I recommend online research for the event at the specific time of your visit to know exactly where to go once you're there.
Have a question? Join our Poland Travel Support Facebook group, we will be happy to help you!