Even though Poland is not the most popular country to travel in Europe, it's definitely worth visiting! It has it all: delicious food, amazing landscapes, beautiful monuments, and friendly people. It's hard NOT to fall in love in this country. In this post, we are sharing the good things about Poland and why it's a travel destination worth considering.
We asked fellow travel bloggers to share their favorite things about Poland. If you are visiting our beautiful homeland soon, be sure to join our Poland Travel Planning Facebook group. We will be happy to help you plan your trip!
Poland Is Vegan-Friendly
One thing I found quite surprisingly about Poland is how amazing the vegan scene is, and also how cheap it is! My favorite cities to visit as a vegan were Poznan and Krakow.
I haven't visited Warsaw yet, but I am told that the vegan scene there is meant to be one of the best in Europe – I mean, there are over 30 fully vegan restaurants listed on vegan restaurant guides for Warsaw alone! A little surprising, no?
As veganism is gaining steam in the country, people everywhere also know and understand what veganism means, and it is extremely easy to get by as a vegan traveler and get served fully vegan dishes all across the country.
From the widespread vegan pierogies filled with potatoes, spinach, lentils, and broccoli, to the most healthy green concoctions, to not-so-healthy but fully vegan fast food options (hello, burgers, pizzas, and doners!), down to amazingly creative fully vegan sushis, you will always find a huge selection of vegan-friendly restaurants and cuisines in all of Poland's biggest cities.
The best part about it all? It is amazingly cheap compared to other neighboring European countries! If you're a vegan looking for your next destination, definitely consider Poland as a top destination!
There Is No Better Place To Party Than Poland
Poland is a country of great culture, long history, and beautiful nature. There are many good things about Poland. But what left the greatest impression on me were people.
As always when I travel I try to mingle with people. So I visited some friends I knew from before, met some tourists in hostels.
Last night in Wroclaw we went for the last round of beers with a friend I traveled to spend the last zloty because we can't use them back home. We were in a bar with a meaningful name ERROR.
As we were ready to leave, the waitress told us we can also pay with a credit card. OK, so we ordered a few shots at a bar. There we met Barmasters, guys that were mixing cocktails and we talked and drank.
After they closed we moved to the next bar in a basement. There vodka was poured in liters. Things got wild, a friend lost arm wrestling to a girl, we were exchanging our T-shirts, …
12 hours later we exited that place in broad daylight, broke and really tired. And now we were getting ready for the next 12 hours, riding the train home.
At that moment we regret all of it. But from that evening I got a new friend that we stayed close and visit each other.
Poland Is Diversified
One amazing thing that Poland has to offer is its diversity. The country is full of amazing travel experiences bucket list items! Even on a short trip, you can get fascinating culture, humbling history, interesting city escapes, and stunning nature. I've been lucky enough to visit the country a few times, and I always go back for more!
On my last trip I based myself in Krakow to visit Auschwitz and then moved to the small town of Zakopane to hike in the Tatra National Park. It's amazing how one small area is so packed with a variety of sights, with something for every travel taste.
I had no expectations for Krakow itself. After visiting the capital, Warsaw, and the beautiful northern town of Gdansk, I thought nothing could impress me. How mistaken I was! The city is breathtaking, full of stories that will both break your heart and make you regain faith in humanity. It's also a great place for foodies –even for vegans–, and every corner is a photo-op, with unique architecture that showcases the history of the town. Stay there for no less than three days to properly explore it.
A day trip to the Auschwitz-Birkenau Concentration Camps is both sobering and disheartening, making you crave for the peace that the magnificent Tatra mountains have in store, just about a hundred kilometers away. The town where you can base yourself to visit the National Park, Zakopane, is enchanting too. Allow yourself a day to enjoy walking around, and then at least a few more to do some hiking on the mountains.
If this is your first time in Poland I can assure you that you'll fall in love and quicky book your next trip to discover more of the remarkable diversity the country offers.
Poland Has Beautiful Baltic Sea Beaches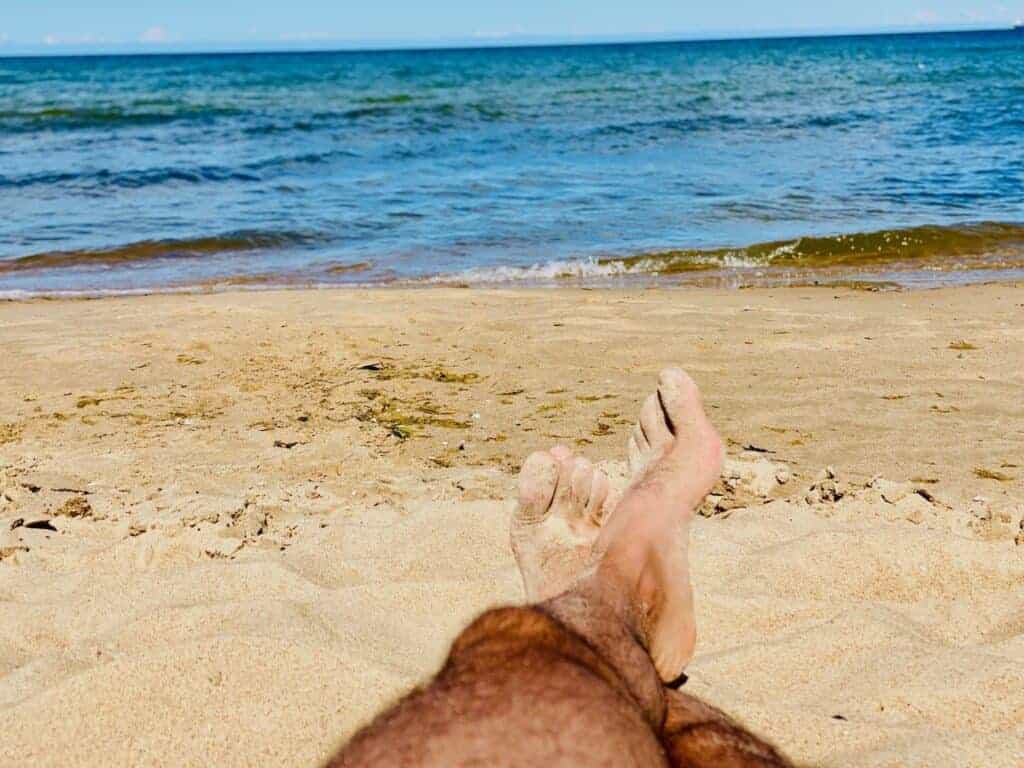 Poland is a special place for me with my ex being Polish and I always wanted to visit his hometown of Gdansk.
The city is very beautiful and the architecture in the main town is breathtaking.
The entire stretch of long street and long market both are beautiful examples of the glorious past of Gdańsk. What's even more interesting is the history behind the current structures standing which were rebuilt based on the blueprints of original buildings standing for centuries.
The idea that the facades were rebuilt but the building behind was typical soviet era flats was very eccentric. It would have been very hard to believe if I wasn't staying in one myself.
The level of detail in the architecture was stunning, the choice of colours exquisite and the scale of buildings impressive. The entire stretch along the river Vistula all the way to the Ferris wheel is lined with beautiful buildings which offer a glimpse into the history of Gdańsk as an important port city.
Gdańsk definitely has what it takes to impress modern travelers but that's not all, the summers here offer something that many people cannot associate with Poland; beaches!
The nearby town of Sopot offers great beaches, beautiful spas, and a chance to get than tan on and surprise people on your return home with a tan. There are many luxury sods in the town and the length of the beach is enough to carry all visitors and locals with all the fun and relaxation.
The spas, the food, the sun, the sea, and the sand all point to a big success when it comes to Poland's Tricity area as a beautiful destination, one I really loved exploring and enjoyed every minute spent here. This area is definitely one of the best things about Poland.
The Medical System In Poland Is Great
Beyond the great food, pretty scenery, and interesting history and culture, something we loved about Poland is the efficient (and cheap!) medical system that we needed to deal with after my daughter fell off her chair and gashed her head in our Airbnb apartment in Wroclaw.
My husband took her to the nearest hospital. She was seen straight away and it was determined that she would be better off at a nearby hospital that specialized in children.
Before my husband could ask how to get there, he and my daughter found themselves rushed into the back of an ambulance. Next thing they knew they were driving the streets of Wroclaw with lights flashing on their way to the next hospital!
Here they were seen straight away and my daughter got stitches on her forehead.
My husband was nervous when it came time to leave and he needed to pay. After the ambulance ride and seeing multiple medical professionals, he expected something big and hoped he had enough access to money to pay for it.
He needn't have worried. Less than 50 euros after, both he and my daughter walked out, well cared for, barely poorer, and with an experience, they won't forget!
The History Of Poland Is Fascinating!
If you are a history and culture lover, you are in for a treat when visiting Poland!
Poland is full of history, especially when it comes to World War II. Of course, you can visit the sadly famous concentration camps such as Auschwitz but even in the smallest cities, you will discover fascinating facts.
There are a lot of walking tours running in the major Polish cities. In Warsaw for example, you can go on a WWII, food, or street art tour. It's very interesting.
As you explore the city, you really start to realize how accurate that name is. Warsaw definitely saw the war. Probably more than any other city in Europe, and yet that's something that is often forgotten in the history curriculum at school.
International visitors (including me) are rarely aware of the extent of events that happened there during the war and learning about it is so interesting.
Poland has also given to the world brilliant minds and artists such as Marie Curie and Chopin.
Finally, it's worth noting that all history facts are not always related to the world wars. If you visit Gdansk, you will discover how important the social movements were during the 80s and how much what happened, in what seems to "only" be a pretty coastal town, had an impact on the world and our human rights!
The history of Poland is fascinating and as a visitor, you will be mind blown by all the things you will learn!
Poland Has An Exceptional Accommodation Options
Poland has so many amazing hidden gems to offer travelers. One of them is high-quality accommodation! Unlike so many other European destinations, Poland has exceptional hotels and hostels that won't break the bank.
There have been many times when I have traveled and booked a cheap place to stay in order to stretch my travel funds longer. Though that allowed me to see places that can be a bit more expensive, it was not exactly the most enjoyable atmosphere to come back to after a day of sightseeing. Fortunately, that is not the case in Poland!
One of my favorite stays in Poland was at a hostel located on the waterway a little bit outside the city center in Gdansk. I won't lie, I booked the Waterlande hostel because they had an amazing indoor pool overlooking the water.
To my pleasant surprise, the supposed 'hostel' was more like a hotel. The classy style and an incredibly modern bathroom, combined with the most comfortable hostel bed I've ever slept in really sold it for me. If you add in the amazing workout gym, sauna, and pool, it felt like I hit the jackpot by playing a hostel price for a hotel!
Not only is there plenty of great food, fascinating history, and gorgeous architecture in Poland, but you can also come back to your affordable accommodation knowing that you will be able to relax. In my mind, that is basically a perfect combination for a destination!
Polish Food Is Amazing!
Not many people consider Poland a vacation destination but they are really missing out. A visit to Poland has it all from history to nature, from castles to traditions, you will find something for everyone.
What people don't realize is that the food is just as top quality as in any other city in Europe. You can find the famous pierogi in any restaurant and in some smaller shops where you can grab a few to eat while you wander.
Another favorite is a hot bowl of Rosol (chicken noodle soup) in winter, it fills you right up. Some Bigos (made from cabbage) is one that most people avoid but it is delicious!
Zapikanka is not to be missed. Grabbing one of these mighty tasty pieces of deliciousness is a must and there's absolutely no sharing once you take the first bite!
Vodka is a Polish national drink and the Poles know how to do it well. You can have some vodka straight or you can sample some of the amazing flavors that are on offer.
Lemon, cherry, plum, mandarin, and peach are some of the ones that are absolutely divine and usually served as a shot. They come in small bottles in the local supermarket or in some of the convenience stores, so you can sample a few different types while you are visiting.
Zubrowka. Soplica and Krupnik all make an amazing selection. The Krupnik Salted Caramel vodka is a personal favorite. You just need to be careful. They taste so good and don't burn like many other vodkas that you can easily go slightly overboard before you even realize!
One place not many people know about and where you will find some amazing homemade meals is a Milk bar. This is a kitchen developed back in the Soviet days where people could go to eat.
Nowadays they still run and anyone can go to get a meal. They are normally cheap but amazing dishes and they change daily as to what the ladies there want to cook or have to cook with.
Many of the main cities and even the smaller towns have them. They will give you a real look into what food is amazing in Poland too.
There Are Many Fascinating Polish Legends And Myths Worth Hearing
Poland is full of fun and interesting cities, each with a unique charm. But one thing that you will find in pretty much any Polish city is at least one fascinating myth or legend.
In Warsaw, the most famous legend is about a mermaid. She is depicted wearing a sword and shield, ready to defend the city. There are many different stories about why this mermaid is protecting Warsaw.
Some say that the mermaid was rescued by the local fishermen of Warsaw and promised to stand guard over the city to thank them. You can find statues of this mermaid all over Warsaw, but the most notable one is in the Old Town Square.
In Krakow, the most popular legends are about the local dragon, the Dragon of Wawel Hill.
As with the mermaid, there are many different versions of this legend. However, one of the most famous is about a shoemaker named Skuba who tricked the dragon into eating an animal skin stuffed with sulfur. Be sure to visit the statue of the Wawel Dragon near Wawel Cathedral when you visit Krakow!
But not all Polish legends involve magical creatures. The loudest legend in Krakow is the legend of the trumpeter in Saint Mary's Basilica.
They say that during the 13th-century Mongol invasion of Krakow, one brave soul warned the city by climbing to the top of the tower in the basilica and playing his instrument.
Sadly his song was incomplete because he was shot in the throat. So every hour on the hour to this day in Krakow, a trumpeter plays a tune in memory of this brave, legendary figure.
Poland Is Hiking Paradise!
Poland's beautiful Tatra Mountains are one of my favorite things about this amazing country. This mountain range forms a natural border between Poland and Slovakia and it's full of beautiful hiking possibilities (or skiing in Zakopane in the wintertime).
It's the perfect place to enjoy nature and relax or to try out some of the many walking trails, of which some are more challenging than others. It's not hard to find nice hikes for a day or multiple-day trekkings (although accommodation should be booked in advance) here.
What makes this place look even more idyllic are the many wooden cottages at the foot of the mountain range. The so-called 'Zakopane style' architecture blends in perfectly with the scenery and makes the
place look as if it came straight out of a fairytale.
I truly enjoyed my time here and loved hiking through these mountains! I hiked through beautiful forests, picnicked next to waterfalls, reached wonderful lakes, and saw some breathtaking sceneries along the way.
Now that I think back about it, I could have stayed here for much, much longer. Therefore, I'd recommend any nature or hiking lover to visit the wonderful Polish mountains. They are definitely one of the best things about Poland.
Polish Architecture Is Pretty Amazing!
As a huge architecture lover, it was impossible for me not to fall in love with Poland. I don't know what people usually think about Poland, but I bet they don't imagine it to be so beautiful.
Although many of the buildings in the country were reconstructed after World War II, it was obvious that the authenticity was maintained.
Starting with Poland's biggest landmarks, it's impossible to stay indifferent to beauties like Warsaw's colorful Old Town including its Royal Castle and Barbican, Krakow's Wawel Cathedral, Poznan's St. Stanislaus Parish Church, the Malbork Castle (the largest castle in the entire world!), and that's just the tip of the iceberg. From Baroque to Gothic to Romanesque, Poland is showcasing a magnificent mix of styles, and I absolutely love it.
But it's not just the famous landmarks that are so stunning and full of colors and intricate architectural details. I love that even "ordinary" residential buildings in big cities and even in small towns and villages can be impressive.
The city where I found almost every single building to be unique and beautiful was Poznan. It's an underrated destination, but it definitely won me over.
The only other place where I could find such pretty buildings all over the city is probably Budapest, so that says a lot about this undiscovered Polish city.
There Are Many Awesome Free Walking Tours You Can Join In Poland
After graduating from university, I bought an Interrail ticket to travel around Europe and spend quite some time in Eastern Europe. Poland was definitely my favorite country to visit and one of the reasons was the free walking tours.
We've been joining free walking tours all over the world, but the first time I heard about them was in Krakow. I was surprised to learn Krakow not just had one, but several walking tours.
They all had their own theme, like the tourist highlights, history, or the Jewish quarter. I joined all of them and loved to hear from locals about their home city. I did the same in Warsaw and joined two free tours.
A free walking tour is a tour around a specific destination by a local guide. You don't have to pay the guide, though sometimes you have to sign up in advance online.
Afterward, you can pay the guide whatever you think the tour was worth or is within your budget. It's a great way to get some insights from a local in a budget-friendly way.
When visiting Poland, you'll be surprised to learn how pretty much all cities have one or more companies hosting those kinds of tours. You can find them by simply looking online for 'free walking tour' + your destination.
Make sure to join at least one or two of them to learn more about the local tradition, history, culture, and much more you would have missed out on otherwise.
You Can Learn A Lot About World War 2nd In Poland
We were nervous about visiting Auschwitz, especially with a teenager. It's the site of some of the most unimaginable horrors that some humans inflicted on others.
As we planned the trip, we wondered – Would the visuals be troubling or disturbing for a young mind? For a place that has seen so much suffering, what would the vibe be?
I'm glad we went there and took the official tour. The entire site is beautifully made, there is enough realism that one can never forget the genocide. But there aren't directly grotesque images on site, at least none that we saw on our tour.
Our tour guide was the grandson of a victim of Auschwitz. His grandfather was brought in from the local Polish community and never left. Our amazing guide was extremely passionate about telling the stories of each site and about the community where Auschwitz was constructed.
I learned that the Nazis didn't just bring Jewish from around Europe to this massive concentration camp, but they also brought local Poles, Russians, Christians, and anyone else that resisted Nazis or were a threat to their mission. They brought kids, adults, elderly, men, and women here in large numbers.
The Jews found homes and communities after escaping or being released at the end. But I was horrified to learn that ordeal was only starting for Russians and other victims, their homes were taken over by others.
They were ostracized by their communities and governments. It's no wonder that the story of the genocide is that of the Jewish suffering while others were forgotten. It was only at Auschwitz that I learned about the extent of the Nazi occupation.
Hopefully, seeing the recreations of Auschwitz and hearing its stories, one will never support hatred and extreme nationalism again. For that reason, I loved how the stories of Auschwitz continue to live.
Pin For Later:
What are the things you love about Poland? Let us know in the comments below!