Poland is home to some of the most picturesque towns and villages. To savor the charm of these romantic Poland getaways with your partner on a weekend away, or an even longer holiday, come with us on a visit to the best places in Poland for couples.
Kraków
Home to people from all walks of life, the erstwhile capital of Poland, Krakow has its own mix of culture and even its own trumpet call. A visit to the city will give you a glimpse of UNESCO Heritage architecture, medieval town squares, and some beautiful parks.
Visit Krakow as a couple and you'll find many of the romantic places in Poland are right here, from enjoying a romantic dinner at the Art restaurant or Cafe Szal to visiting a chocolate factory, to putting a love lock on a popular bridge.
Where To Stay In Krakow
Hotel Unicus Place – In the heart of Krakow Old Town close to almost every attraction.
Grand Ascot Hotel – Stylish interiors and a lovely sauna.
Vienna House Andel's Cracow – Offers panoramic views of Old Town from the upper floors.
Zakopane And Tatra Mountains
A hub for skiers in winter and hikers in summer, Zakopane tops the list of best places in Poland for couples. With the stunning backdrop of the Tatra Mountains, this offbeat destination becomes so popular, it's often called the 'winter capital of Poland'.
Visit with your loved one and you can stay in chalets covered in snow in winter or hike through gorgeous mountain landscapes in summer. Zakopane is also replete with so many thermal pools, you can enjoy spending time in the magical waters with your other half.
Where To Stay In Zakopane And Tatra Mountains
Hotel Rysy – Chalet-style hotel close to the Wielka Krokiew Ski Jump.
Bachleda Residence Zakopane – The perfect blend of traditional and modern decor.
Grand Podhale Resort&Spa – With gorgeous views of the Tatra mountains.
Grand Nosalowy Dwór – Set at the foot of the Nosal Mountain, its a perfect base for hiking.
Udanypobyt Dom Z Ogrodem – This villa is perfect for families and groups who want luxurious privacy!
Wrocław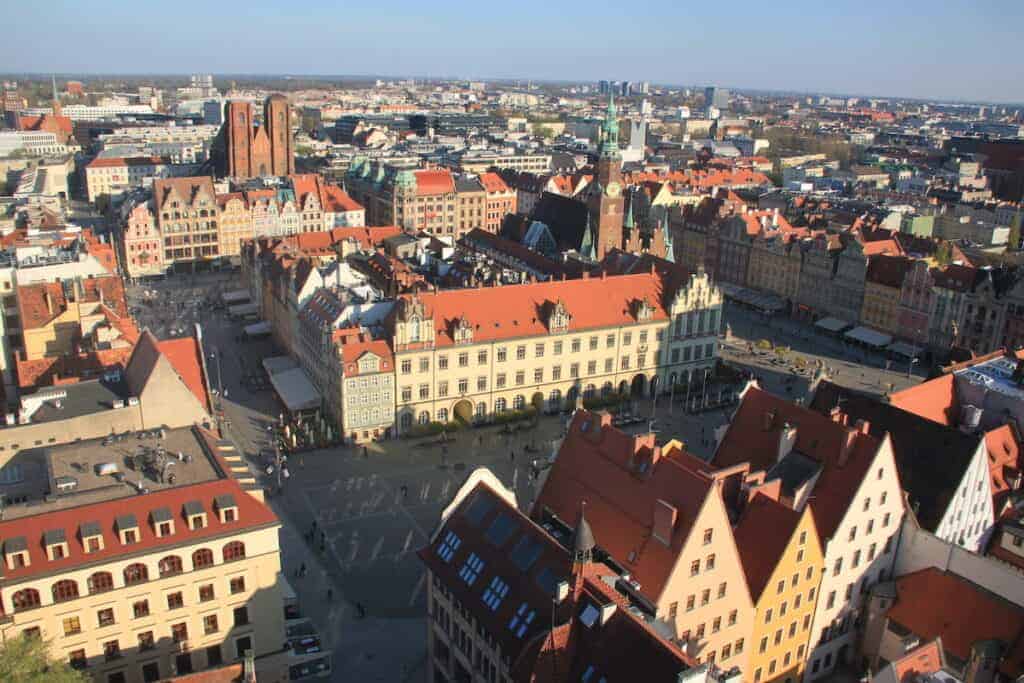 With over 300 bridges, it's no wonder Wroclaw is called 'Venice of the North'. But that's not all it's famous for. The Wroclaw Christmas market in Wroclaw Rynek sees visitors from all over Poland as well as other countries.
See the movie set location of the Four Domes Pavilion (Wroclaw Contemporary Museum) where famous Polish film director Wojciech Jerzy fell in love with his wife Panna Jadwiga. It's also the set of the popular American movie Match Point where a retired tennis player (Jonathan Rhys Meyers) falls in love with his student's fiancee (Scarlett Johansson).
See panoramic views of the city from the top of Garrison's Church and put your lovelock on the Ostrow Tumski. Or go for a walk crossing snow-covered rivers in Park Poludniowy and stop to gaze at the statue of Frederic Chopin.
Among the many romantic things to do in Poland is taking a walk in the Old Town Park or Nicolaus Copernicus Park where love and poetry abound. The small romantic garden features a sculpture by the German sculptor Theodor von Gosen with Amor or Cupid, the god of love sitting on the divine winged creature Pegasus.
Where To Stay In Wrocław
The Granary – La Suite Hotel – A 16th-century granary turned hotel in the heart of the city with beautiful old world charm.
Scandic Wroclaw – Old town hotel on Stare Miasto within walking distance of everything.
SleepWalker Boutique Suites – Elegant and romantic hotel with traditional furnishings reminiscent of a palace.
Hotel Dwór Polski – This 16th-century hotel in Wroclaw's Old Town with romantic traditional decor takes you back in time.
Baltic Sea Coast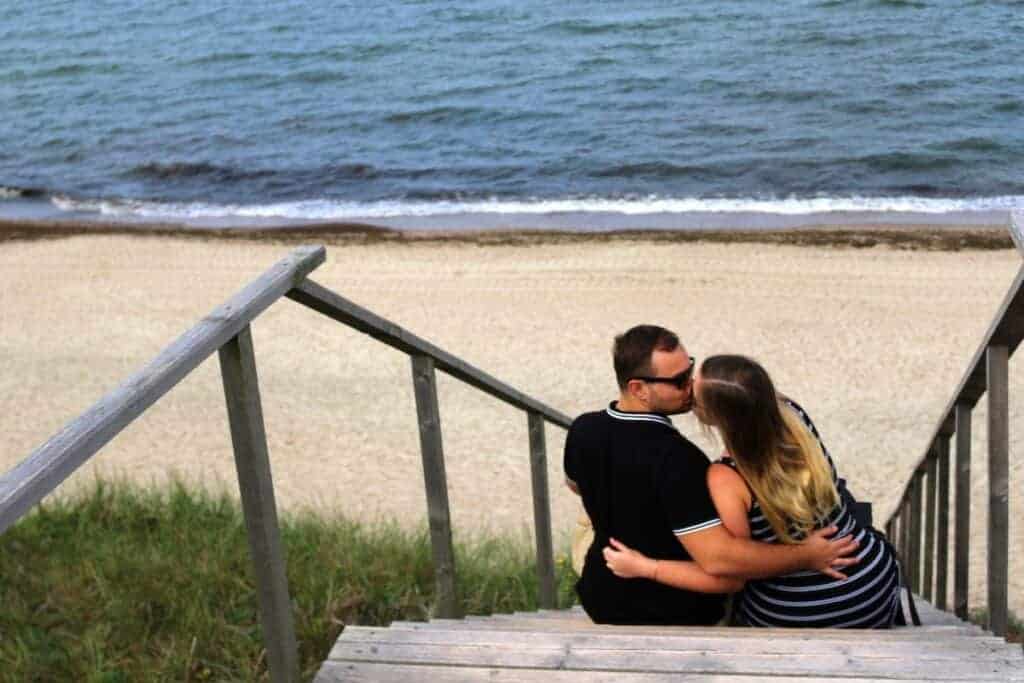 Images of Poland are usually filled with medieval architecture, snow-capped mountains, rolling fields, and contemporary architecture. It's difficult to think of Poland and seaside towns and the same time.
But head over to the north of Poland and you'll find many quaint towns dotting the Baltic Sea. From Swinoujscie in the East to Frombork in the West, each town has something beautiful to offer the romantically inclined traveler.
Take a walk along the promenade at Świnoujście, laze on the white sandy beaches in Kolobrzeg, or take photos with your loved one at the ruins of the old church overlooking the Baltic sea in Trzęsacz.
And if you want to do something really offbeat head over to the beach at Krynica Morksa to feed wild pigs. It's really a trendy thing!
Where To Stay In The Baltic Sea Coast
Hilton Swinoujscie Resort And Spa – Big beautiful showers and spacious rooms overlooking the baltic sea.
Adonis Beach – Luxuriously decorated apartments at Swinoujscie overlooking the Baltic Sea for that added bit of privacy.
Marine Hotel by Zdrojowa – Relax and enjoy the saunas and Hammans at this luxurious seaside accommodation in Kolobrzeg.
Domki Villa Hoff Resort – Book private cliffside cottages in Trzęsacz that are walking distance to the beach.
Bieszczady Mountains
Another one of the top romantic Poland getaways in Poland is the Bieszczady Mountains. Lush green hills that turn to snow-capped winter peaks are the perfect place for a quiet and peaceful holiday away from the hustle and bustle of towns and villages.
You can easily rent rooms, chalets, or villas near Lesko, Cisna, Wetlina, Sanok, or right in the middle of the forest for some quiet time with your loved one.
Where To Stay In Bieszczady Mountains
Hotel Arlamow – This luxurious hilltop hotel has its own helicopter and small plane landing pad. Stay here for access to a golf course, ski complex, outdoor thermal pool, and onsite fishing pool, and wake up to mountain views.
Hotel Salamandra – Rooms and apartments offer balconies with views of the surrounding Bieszczady mountains, and the national parks are close by.
Hotel Solina Resort & Spa – This brightly decorated mountain hotel on the banks of the San River features saunas, spas, jacuzzis and tastefully decorated rooms that are perfect for a weekend away.
Zalipie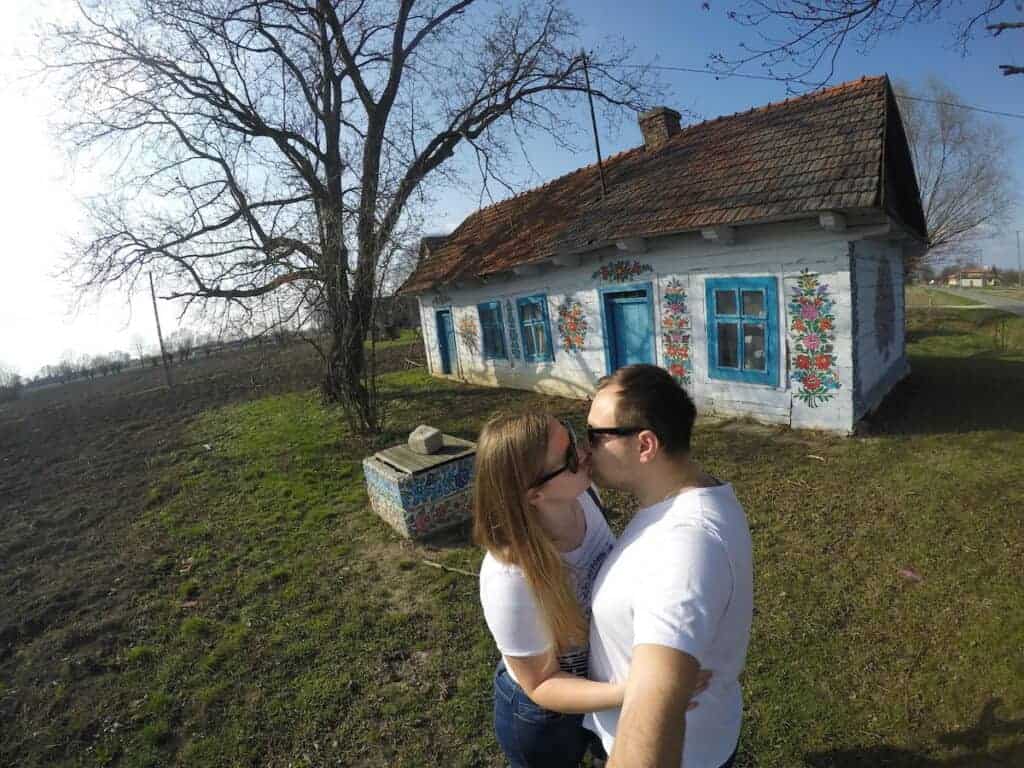 Listed as one of the most beautiful places to visit in Poland, Zalipie is a town painted with beautiful flowers everywhere. From the insides of homes to the outside, no wall is left unpainted.
How did this come about? In a time when everyone used wooden stoves, the homes in Zalipie didn't have chimneys to let the soot out. This would create black marks on the walls. To cover this, the village women started painting over them with flowers.
Even the pets' pens are colorfully decorated. Walk along the streets and the buildings and bridges, and literally everything you see is painted with shades of spring from flowers to trees.
Where To Stay In Zalipie
Zalipie being a small village, you can't really find affordable accommodation here. It's best to visit Zalipie as a day trip from Krakow.
Sandomierz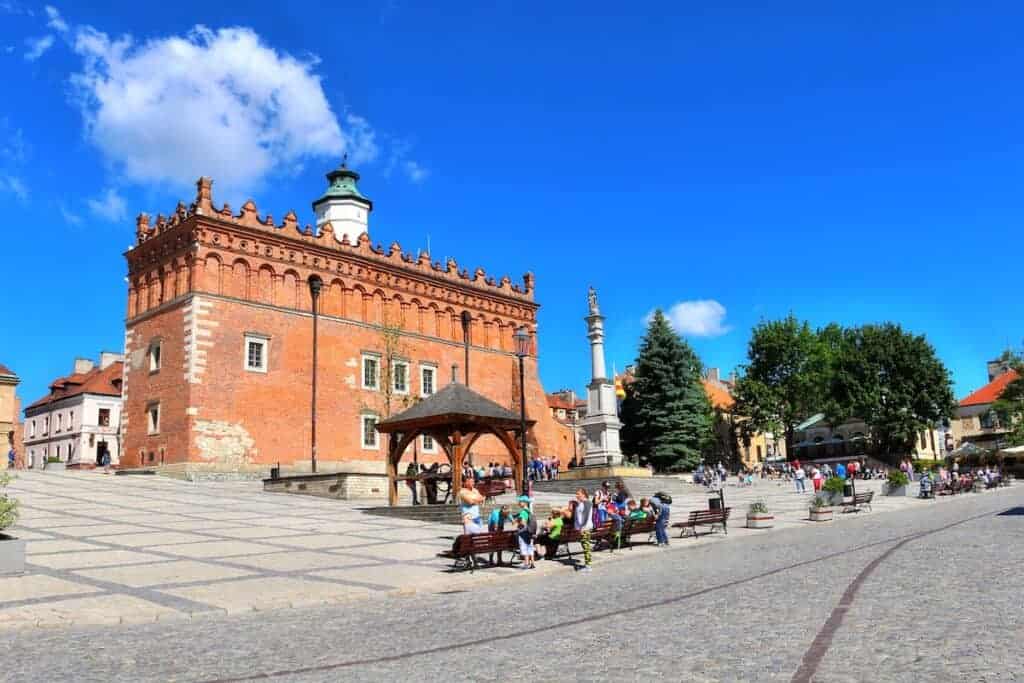 Part of the Swietokrzyskie province, Sandomierz is a hilly town just minutes from the Queen Jadwiga Ravine where you can go hiking with your adventurous other-half.
The town is also filled with many churches and chapels, some dating as far back as the 13th century. There's more to explore in Sandomierz, including the magnificent Sandomierz Castle that affords vistas of the surrounding landscape.
Where To Stay In Sandomierz
Pokoje Gościnne WIDNOKRĄG – A historical building converted to a beautiful hotel with rooms overlooking different parts of the city.
Hotel Sarmata Zespół Dworski – A renovated historical building from 1861, it feels like staying in a fairy-tale castle.
Sandomiria – An affordable and charming inn close to Town Hall and Holy Spirit Church.
Kazimierz Dolny
Home to the popular Wawoz Korzeniowy Dol that hikers and trekkers love, Kazimierz Dolny is a small historical town in Lublin, Poland.
A haven for painters and artists, you'll find streets lined with sculptures, fine art, and glasswork for sale. Visit during August and you can take part in the popular Two Riversides "Dwa Brzegi" Film and Art Festival.
Visit towering castles, stroll along the old streets, buy goodies at the historic market square, or go on a boat ride along the Vistula River.
The Magiczne Ogrody Fun Park is also a short drive from Kazimierz Dolny.
Where To Stay In Kazimierz Dolny
Pensjonat Kazimierski – A lovely traditionally decorated hotel with beautiful rooms that are perfect for anniversary celebrations, just a short walk from the town center and Vistula river.
Hotel Król Kazimierz – On the outskirts of the city, this exceptional hotel has an indoor pool and spa, and gorgeous views.
Hotel Villa Bohema – Beautiful interiors, great facilities, and a quiet indoor pool.
Warsaw
Just because it's the capital, it doesn't mean that Warsaw cannot be on the list of must-visit romantic places in Poland. In fact, many couples will love to visit Warsaw for a romantic holiday.
From walking under the hearts at the Valentine Bridge to visiting the beautiful baroque castle of Jan III Sobieski, to taking a romantic cruise along the Vistula River, there's so much to share with your beloved.
And then of course there are romantic walks in Łazienki Królewskie, or dinners at one of the many cafes or restaurants in Old Town.
Or going up to the top of the Pałac Kultury for an aerial view of the town like people do from the top of the Empire State Building. There are literally so many amazing things to do with your loved ones!
Where To Stay In Warsaw
Mamaison Hotel Le Regina Warsaw – Housed in a historic building in Old Town, this hotel is the epitome of luxury.
Hotel Bristol, A Luxury Collection Hotel, Warsaw – A perfect blend of old history and modern luxury, this Art Deco hotel will make all your dreams come true.
SleepWell Apartments Nowy Świat – For a more homey feel, these classy Warsaw apartments in the town center are just perfect!
Torun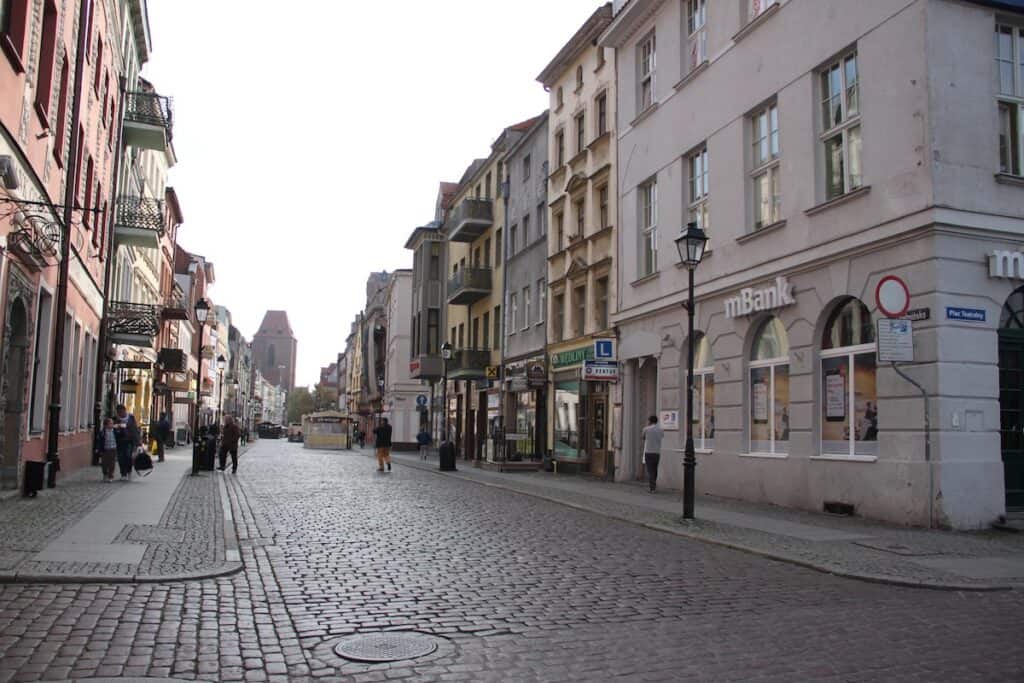 A city that's been designated a UNESCO Heritage Site, Torun in Kuwajsko-Pomorskie was the birthplace of the infamous astronomer Nicolaus Copernicus who placed the sun at the center of the solar system in the 15th century.
It's also home to some of the most Gothic buildings in Poland, especially the Town Hall and Katedra świętych Janów.
And you'll love visiting the gingerbread stores with your other half. These stores follow a tradition established over 1000 years ago and are still made in many local stores. Once presented to kings and people of esteem, this gingerbread is the perfect gift for your other half.
Where To Stay In Torun
Copernicus Toruń Hotel – On the shores of Wisla, this classy hotel is within walking distance of everything in Torun.
Hotel 1231 – This 4-star boutique hotel near the ruins of the Teutonic Castle is housed in a 13th-century Old Mill and 14th-century Infirmary close to Old Town.
Hotel Bulwar – A short walk from the Old Market Town Square, this hotel offers views of stunning architecture on one end and Vistula rivers views on the other side.
Czorsztyn Lake
Although this lake on the Dunajec River was manmade, it feels like it's been there forever. Close to the Pieniny National Park, Niedzica Castle, and Czorsztyn Castle, the lake is perfect for lazy picnics with your partner.
For the adventurous couple, this lake has also turned into a watersport destination. Come here for sunbathing, kayaking, paddling, and a lot more.
Where To Stay At Czorsztyn Lake
Kinga Wellness Hotel – A short walk from Czorsztyn Lake, Castle, and Gorce Mountains, this 4-star hotel is perfect for a romantic vacation!
Hotel LOKIS – With perfect lake and castle views, this relaxing hotel in Niedzica Zamek is perfect for skiing, hiking, or more.
Osada Brzezia – This lovely 2-bedroom apartment with a fireplace near the lake is perfect for skiing and exploring the surroundings.
Poznań
The land of the rogale świętomarcińskie, Poznan is home to Poland's most famous croissants. These custard-filled poppy-seed sprinkled almond-flavored marvels are dedicated to Saint Martin and celebrated on 11th November every year. If you visit Poznan just to buy your lover these sweet croissants, it's worth it!
Of course, there's a lot to do in Poznan too. Visit the resting place of the first Polish kings, see where Poland was baptized, or try the famous beer at Stary Browar before turning in for the night.
Where To Stay In Poznań
Hampton By Hilton Poznan Old Town – This Old Town Poznan hotel offers comfortable rooms within walking distance of many attractions.
City Solei Boutique Hotel – Within walking distance of all major attractions, this boutique hotel offers imaginative rooms with unique decor.
PURO Poznan Stare Miasto – Steps away from all the attractions in Stare Miasto, this stylish and comfortable modern hotel is perfect for a weekend getaway!
Białowieża Forest
A UNESCO-protected site, the 150 thousand hectares Białowieża Forest in Podlaskie, Poland shares borders with Belarus. Home to endangered and primitive species, there's quite a lot to see in this forest.
Apart from being home to gigantic bison, Eurasian elk, primitive Konik horses, unheard of mushrooms, and more; the forest is also home to the Nature and Forest Museum, Bialowieza Pałac, and the Hajnówka Water Park.
You can also stroll through Hajnowka market with your loved one and buy some souvenirs of your trip together.
Where To Stay In Białowieża Forest
Hotel Białowieski Conference, Wellness & SPA – This red-roofed hotel at the border of the Bialowieza Forest is worth spending time in and should have been rated a lot higher!
Hotel Żubrówka Spa & Wellness – One of the best forest hotels, the onsite Żubrówka Restaurant specializes in regional and venison dishes.
Zamość
This offbeat town replete with mesmerizing architecture is called the Polish pearl of the Renaissance. Monuments, churches, synagogues, statues, museums, town halls, and walls and gates dating back to old times – there's so much to see in Zamosc that you can easily spend a week here.
If your partner is fond of architecture and history, a trip to Zamosc will leave them fulfilled.
Where To Stay In Zamość
You won't find many hotels in the center of town. Here are a few others nearby.
Artis Hotel & Spa – About 2.5 km from Old Town Zamosc, this wedding-destination hotel is elegant and relaxing.
Hotel Koronny – Once a military barracks, this hotel with simple and compact rooms does not disappoint.
Hotel Zamojski & SPA – This 4-star hotel next to City Hall in Old Town Zamosc is within walking distance of all attractions including the Zamoyski Family Palace and Zamoyski Cathedral.
Moszna Castle
Part of the Opole Voivodeship, Moszna Castle is popularly known as the Polish Harry Potter Castle. Once the residence of the German Tiele-Winckler family, the castle covers 7,000 square meters and has 365 rooms with 99 turrets.
The castle stud farm is home to thoroughbred Arab horses, while the park surrounding the castle merges with the surrounding forests and fields. Possibly a Templar stronghold in ages past, the castle is well worth a visit.
Where To Stay Near Moszna Castle
Moszna Zamek – There aren't many hotels in Moszna, but the Moszna Zamek is close to the main castle entrace. Large spacious rooms are cozy and comfortable, and what's more important, is that Moszna Zamek or Moszan Castle Hotel is part of the castle grounds.
Mazurian Lakes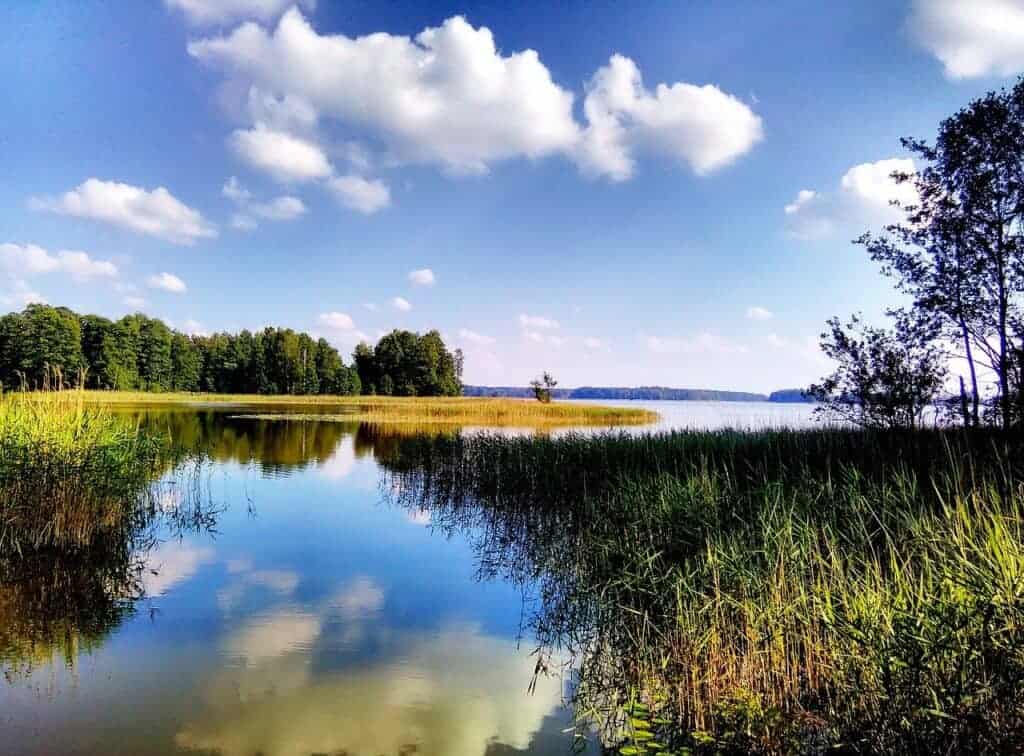 Covering an area of over 52,000 square kilometers, the Mazurian Lake District is considered one of the most beautiful places in Poland. With over 2000 lakes to its credit, this region of glacier-created lakes and moraines is extremely beautiful.
Nature lovers, hikers, bikers, and boaters come here every year, and the number of visitors just keep on increasing. If you and your partner love exploring endless forests, fly fishing in rivers and lakes, kayaking and canoeing through rivers, or biking and boating to different towns, you'll love a stay near the Mazurian Lakes, and especially Poland's largest lake, Sniardwy.
Some of the popular towns to set up base here are Nikolajki, Elk, Gizycko, Ilawa, Ryn and Pisz.
Where To Stay Near Mazurian Lakes
Hotel Joseph Conrad – On the banks of Lake Ros near Pisz, this hotel offers traditionally furnished and warm rooms. The terrace restaurant is perfect for wining and dining your loved one!
Hotel Mikołajki Leisure & SPA – This Ptasia Island hotel offers 5-star facilities, a glorious spa, and apartments and suites with scintillating lake views.
Hotel Zamek Ryn – Once a 14th-century Teutonic castle, this hotel features a swimming pool that's down in its old Gothic vaults. Rooms and suites are elegant with picturesque views of the surrounding countryside and lake.
Pin For Later: