Spending holidays in one of Poland thermal baths? That's probably not something most of the travelers think about. Too bad- there are many awesome places in the country and you will be surprised how easy it is to find Polish spa resorts that are world-class but still cheap compared to Western European prices.
Imagine spending time in the high-end Polish thermal baths overlooking majestic mountains. Even though it may be cold outside, the hot water will keep you warm. After a few days, you will notice that you feel better, some of your health problems may be completely healed by the mineral water. This post is all about thermal baths and health resorts in Poland.
Check out the map below and keep on reading to find out where to find the best spa in Poland!
Read my post about the best water parks in Poland if you want to have some fun as well!
Zakopane and Tatra Mountains in general, have the highest density of thermal baths in Poland. There are at least four mineral pools complex in the area and the new ones are open every few years. If you are looking for the thermal spa Krakow, Zakopane should be your place to go.
Bania Thermal Baths
It's probably the most famous (and the most crowded in a high season) thermal baths in Zakopane area. I'd say it's also the most stylish one, as they tried to use as many ecological materials while building as possible (wood, stones, etc.).
Bania Thermal Pools Zakopane Complex
It's divided into 3 zones:
Fun Zone (great for kids, with many attractions, slides, etc.)
Relax Zone (with hot tubs, hydro-massages, etc,)
Sauna Zone (for adults only)
Here is the official website of Bania Thermal Pools, check it out if you want to know more about the complex.
Where To Stay In Bania Thermal Pools Zakopane?
The complex is actually connected with the hotel, so there is no better place to choose than Hotel Bania. In winter, there is a ski slope right next to this Zakopane thermal pools, so you will have all the awesome attractions at your fingertips.
Traveling from Krakow? Save your time and book a day trip to Bania Thermal pools here.
Bukovina Thermal Baths
In contrary to Bania Thermal Pools, there are no zones in Bukovina. You need to buy the ticket to all the attractions and always pay extra for using the sauna. That makes Bukovina Thermal Baths a little bit more pricey and also less crowded in a high season.
Bukowina Thermal Pools Complex
The complex is divided into:
Outdoor Zone
Indoor Zone
Sauna Zone
There are plenty of attractions in Bukovina Thermal Baths for kids and adult, including water slides, hydro massages, and more. Check out their official website for more info.
Where To Stay In Bukovina Thermal Baths?
There is a hotel within the thermal complex called Hotel Bukovina. It's a high-end and family-friendly place, so you can be sure you will have lots of fun there.
If you are traveling from Krakow, be sure to check out this awesome day trip to Bukovina Thermal Baths.
Goracy Potok Szaflary Thermal Pools
That's probably the most peaceful of all the thermal pools Zakopane. It's also the cheapest one.
Szaflary Thermal Pool Complex
The complex consist of outdoor thermal pools, indoor thermal pools, sauna zone, and some other attractions. Most of them are available for kids aged 5 or more, that makes Szaflary a pretty interesting option for adults. You won't find many noisy children in there, so you will be able to truly relax.
There are some outdoor, seasonal kids attractions in the summer though but they are a little bit separated from the complex. Check out the official website of Goracy Potok to read more.
Where To Stay At Goracy Potok Szaflary?
Another reason to love Szaflary is Goracy Potok Apartamenty. If you decide to stay there, you will have access to the pools for free. The apartments are all wooden with beautiful, cozy, folk interiors.
Chocholowskie Termy Baths
The newest and the biggest thermal spa Zakopane. Great for everyone: solo travelers, families, and couples.
Skip the lines and buy your ticket to Chocholowskie Termy online here.
Chocholowskie Termy Baths Complex:
It's huge! Over 30 pools located on two floors, both outdoor and indoor. Check out the full info on the official website of thermal baths.
Where To Stay At Chocholowskie Termy Baths?
There is no official hotel connected to this Zakopane thermal pools. The closest accommodation is Chocholowskie Zacisze Przy Termach.
Things To Do Around Zakopane
There are so many things to do in the Tatra Mountains, that I've written a separate post about that. Check it out here. Be sure to visit Morskie Oko, one of the most beautiful lakes in the world!
Mszczonow Thermal Baths
If you are looking for Warsaw thermal baths, Mszczonow is probably the closest one to the capital of Poland. It's located just 50 minutes driving from Warsaw.
Mszczonow Thermal Baths Complex
The complex is quite small and old, comparing to other hot water springs in Poland. It consists of 5 thermal pools, 2 of them are open all year round, the other 3 only in the summer.
If you are traveling with kids, they will probably get bored in Mszczonow in the wintertime. They will have lots of fun when it's hot outside though.
Read more on Mszczonow Baths' official website.
Where To Stay In Mszczonow?
There is no hotel located right next to the thermal baths. The closest one is the Hotel Panorama, situated about 15 minutes walking from the pool complex.
If you are staying in Warsaw, it's probably better to rent a car and make Mszczonow your day trip destination.
Suntago Park Of Poland
Right next to Mszczonow thermal baths (about 10 minutes drive), there is a brand new Water Complex opened.
It's actually the biggest water park in Europe.
Suntago Park of Poland Complex
Even though the park was opened up on February 2020, it's already one of the best places to visit in Poland.
We've written a full review of Suntago Park of Poland (follow the link).
Here are some info about Suntago in a nutshell:
Park of Poland is divided into 3 zones:

Jamango with water attractions and slides
Relax for adults only
Saunarium

The water park can accommodate up to 5,000 people
There is a water park hotel within the complex
Solec Zdroj Mineral Pools
Solec Zdroj mineral pools have one of the best sulfuric water in the world. It heals a wide range of diseases, such as discopathy, neuralgia, skin diseases, neurosis, osteoporosis, and many more.
People from all over Europe are traveling to Solec Zdroj in Swietokrzyskie Province only to cure their health problems.
Solec Zdroj Pool Complex
The complex consist of the following pools:
3 outdoor swimming pools open in the summer (1 for adults and 2 for kids)
indoor pool for children
huge indoor swimming pool (where you can swim, play volleyball, etc.)
a therapeutic indoor pool designed for visitors to relax and take advantage of mineral water's healing properties
Things To Do Around Solec Zdroj
Solec Zdroj is a little village, so all you can do there is walking and relaxing.
There's a bigger town in a neighborhood called Busko Zdroj. It's a tourist resort, where you can find many places to have fun.
Quite close to Solec Zdroj, there is a town called Pacanow, the capital of Polish cartoons.
It's where Koziolek Matolek (billy-goat), a popular cartoon character, comes from. If you happen to travel to Pacanow, be sure to visit the European Fairytale Center, a place where kids of all ages can have fun!
It is not only about Koziolek Matolek though. You can find cartoons from all over the world there!
Where To Stay in Solec Zdroj?
The best place to stay is Hotel Malinowy Zdroj. It's located right next to the pools, it's quite expensive though.
If you are a budget traveler, choose Kolory Swiata. Apartments in this hotel are just awesome! Each one of them is different and is designed in the traditional style of countries like Greece, Spain, Mexico, and more.
Termy Warminskie Baths
It's easy to find Polish spas health resorts in the south of the country but it's not so obvious in the north. Termy Warminskie is one of the few located close to the Baltic Sea and the border with Lithuania.
Termy Warminskie Baths Complex
Just like at Bania Thermal Pools, Termy Warminskie is divided into 3 zones:
Active Zone (with big swimming pool and attractions for kids)
Relax Zone (with hydro massages and hot tubs)
Sauna Zone
You can find more info on the pools' official website.
Things To Do Around Lidzbark Warminskie
The biggest tourist attraction in the town is Lidzbarks' Bishop Castle. It's pretty impressive! Even though it's not very close to the thermal baths, you can easily walk from one place to another.
Where To Stay In Lidzbark Warminski?
The choice is quite obvious- there is a hotel in a thermal pool complex called just like the baths- Termy Warminskie. It's cozy and affordable, there is no better place to stay in Lidzbark Warminski.
Uniejow Thermal Spa
Uniejow Thermal Spa is a great destination for those of you who want to relax and take care of their health.
It is located in central Poland, about an hour driving from Lodz and 2 hours from Warsaw.
Uniejow Thermal Spa Pool Complex
To start with, you should know that Uniejow is one of the fastest-developing hot springs in Poland. They are adding new pools and facilities almost every year, that's why it's definitely a place worth visiting!
There are over 10 pools in Uniejow, located both indoors and outdoors. It's definitely a kid-friendly place, as there is a separate pool with a huge ship inside, designed especially for the little ones.
You can also find the Relax Zone in the complex with many saunas, a hot tub, and the ice chamber.
Where To Stay In Uniejow?
The best is to stay at Hotel Uniejow. It is really close to Uniejow Thermal Pools and they have great spa facilities.
Termy w Poddębicach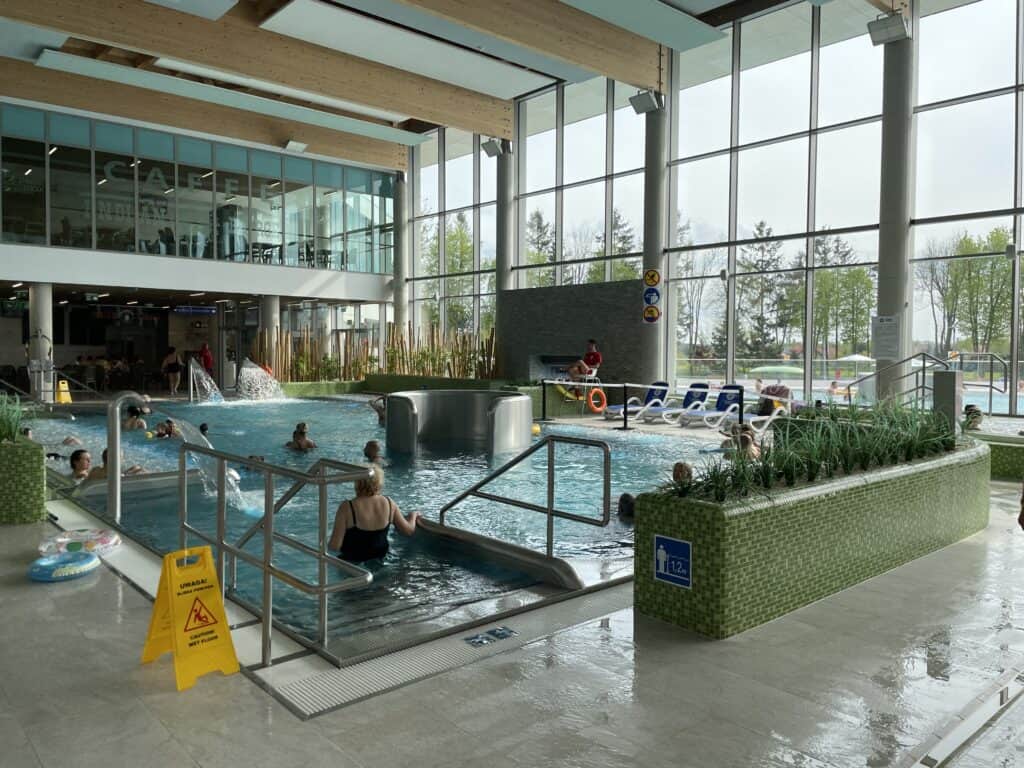 Located just a 15-minute drive from Uniejów, thermal baths in Poddębice are the newest in Poland!
They are still not that popular and that's what makes them worth visiting!
Everything is brand new, the baths are not crowded. There is a big spa area upstairs with different kinds of saunas, and lamps (UV lamps, collagen light therapy)
Where To Stay In Poddębice?
ISON is a hotel located right in from of the thermal baths in Poddębice.
Termy Maltanskie Baths
It's the only Poland thermal spa located in a big city.
Poznan is the capital of the Greater Poland voivodeship and the 5th biggest Polish city. Termy Maltanskie is not only hot springs but also the biggest aquapark in Poland.
Poznan Thermal Baths Complex
It's the biggest pools complex in Poland, so you can't possibly get bored there! Termy Maltanskie are divided into 4 zones:
Sport Zone (where you can swim in one of the pools)
Aquapark (a place where kids and adults can have fun; it's also where you can find the 3 pools with thermal water)
Sauna Zone (it's really huge, with over 14 saunas and other facilities)
Spa / Thermal Zone (the biggest spa in Poland where you can get treatments from all over the world)
More info on the thermal pools' website.
Where To Stay In Termy Maltanskie?
Right next to the thermal pools there is Novotel Poznan Malta. This three-star hotel is a cozy and comfortable place to stay.
Tarnowskie Termy
One of the newest thermal baths in Poland, Tarnowskie Termy is located just 35 minutes drive from Poznan.
It's smaller and less crowded than Termy Maltanskie.
Tarnowskie Termy Pool Complex
Since the pool complex is quite small, there are 2 zones available:
Tarnowskie Termy is one of the best thermal baths in Poland for those traveling with toddlers.
There are many water attractions for smaller kids available. The pool complex is also not crowded, and we personally LOVED IT.
Cieplice Spa
Located in Jelenia Gora, close to the border with Czechia and Germany, this Poland thermal baths is probably the most famous one in the country for foreigners.
Cieplice Spa Pool Complex
The complex is open all year round, however, some outdoor pools are open only seasonally, in the summer.
Outdoor Pools Zone
Indoor Pools Zone
Sauna Zone
More info about the Cieplice Spa is on their official website.
Where To Stay In Cieplice Spa?
Arguably the best choice is Hotel Cieplice, located across the park. It has its own pool and spa area so you can relax in the hotel as well.
Termy Ladek Zdroj
It's definitely the most beautiful and stylish Polish spa. Located in the old baroque building, it's pretty similar to the famous Gellert Baths in Budapest.
Termy Ladek Zdroj Complex
It's actually one of the best sanatorium Poland (a health resort that people visit to improve their health and relax).
Most of the pools are for adults only, so it's probably not the best place to go if you are traveling with kids.
There are different pools in Ladek Zdroj with 6 types of water, healing different health problems:
Jerzy (temperature: 28°C, recommended in healing the common diseases of civilization)
Wojciech (temperature: 29°C)
Marie Curie- Sklodowska (temperature: 25°C)
Chrobry (temperature: 26°C)
Dabrowka (temperature: 20°C)
Zdzislaw (temperature: 44°C, helpful in healing joints and spine problems)
Where To Stay In Ladek Zdroj?
Zdroj Wojciech is a hotel connected to the thermal pools, so there is no better place to stay. You can literally walk in the swimming suit and the bathrobe for the entire day.
Uzdrowisko Ustron
It's not only one of the biggest health spas in Poland but also in entire Europe. There are over 2,000 treatments available in the complex!
Uzdrowisko Ustron Spa Complex
It's a professional medical area, perfect for those recovering from serious health issues, such as heart attacks.
Uzdrowisko Ustron is a place for adults only (kids with health problems are allowed as well). You won't find many attractions there, as it's all focused on the medical facilities.
More info on their official website.
Where To Stay In Ustron?
Sanatorium Rownica is located within the Medical Complex, so it's probably the best place to stay while in Ustron.
Pin For Later:
Have a question? Join our Poland Travel Support Facebook group, we will be happy to help you!