Who said Poland is just a country with historical sites, and charming old towns? There is so much more in Poland than that! If you want to have fun during your trip, you may visit one of the water parks in Poland.
In this post, I am writing about all the water parks in Poland. Here's the map with all their locations:
Water Parks With Thermal Baths
Apart from water parks, there are many thermal baths in Poland that have water attractions.
I have a separate blog post about thermal baths in Poland. Follow the link to read it!
The best water parks with thermal baths that I am writing about are:
Uniejów Thermal Spa
Bania Thermal Pools
Bukovina Thermal Pools
Gorący Potok Thermal Pools
Termy Maltańskie
Tarnowskie Termy
They are also included on the map above. Again, I am only mentioning them in this article, for details, read this article.
Suntago Wodny Świat – the largest water park in Poland & Europe
The largest indoor aquapark in Europe is situated in Wrecza village, central Poland.
It's just 50 minutes drive by car from Warsaw, the Polish capital, and a 1 hour and 15 minutes drive from Lodz!
Suntago was opened in 2020, so this water park is still developing. Except for the many pools and slides, you can find there also thermal pools, saunas, and baths.
One of the attractions inside is the real palm trees.
I visited Suntago water park with my family right after it was opened. Read my full review of Suntago Park of Poland (follow the link).
Suntago's official website–> click here.
Aquapark Reda
It is the first and, as for now, the last water park in Poland connected to the aquarium where you can find real sharks imported from Sri Lanka.
Aquapark is located in a small town called Reda in Kaszuby. The biggest attraction in Aquapark Reda is a 60m slide in a tunnel leading to the shark's aquarium.
Everyone will find something for themselves in the Aquapark Reda! Kids can enjoy the Pirate Bay area with seven water slides and a ship.
Youngsters and adults may slide down the largest slides, have fun in a pool with false waves, or relax in a jacuzzi.
There are many other water attractions in Aquapark Reda. Visit their official website (follow the link) to read more.
Water Park in Kraków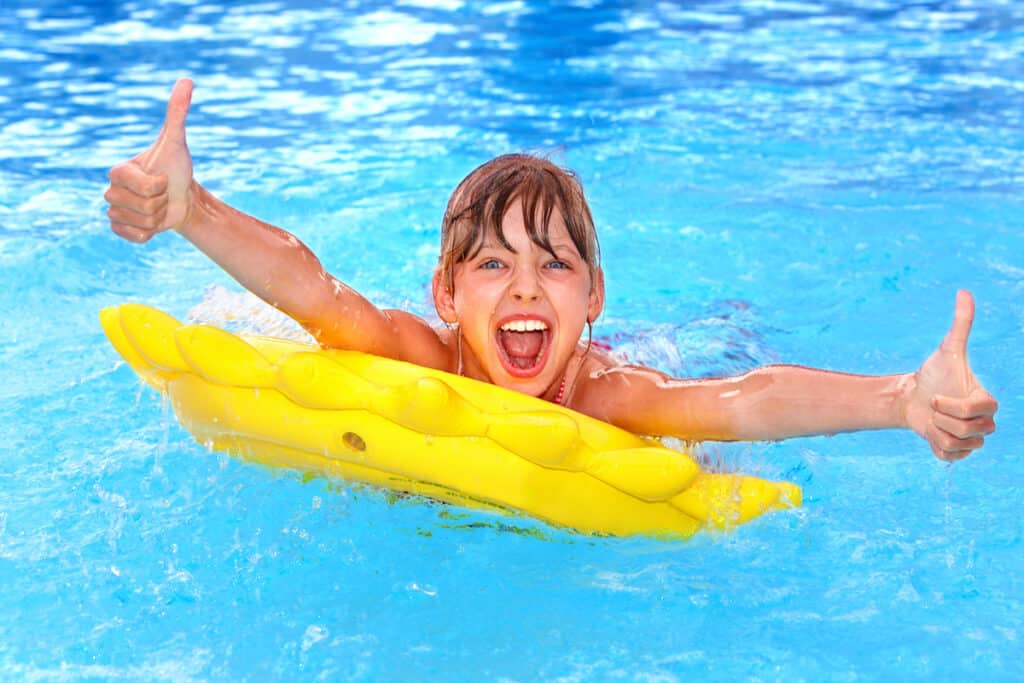 Park Wodny in Kraków is one of the biggest water parks in Poland. It is located in one of the largest and most popular cities in Poland – Kraków.
There are 10 slides in the water park, with the largest that is 202 metres long!
Some of the other attractions in Kraków's Aquapark include:
3 pools with fountains
hydro-massage
pools with waves
water climbing wall
The most unique attraction in this water park is a huge fountain in Wawel Dragon's shape. Dragon is a symbol of Kraków.
Kraków's Aqua Park official website–> click here.
Baseny Tropikalne Binkowski Resort in Kielce
What's special about Binkowski Resort? It's probably the only water park in Poland where you can feel the vibe of the tropical island. It's all because of the real exotic plants that are visible all around.
The aquapark is situated in the hotel so you can combine your visit to the water park with staying in the hotel and sightseeing in Kielce.
Binkowski's heart is a large pool called the 'Blue Lagoon'. It is not deep, and it's located pretty close to the tropical bar. That's why it's a great place to relax!
There are many other attractions at Binkowski Aquapark! Some of the include the brine
pools, the pools with hydromassage, and 3 slides. The biggest is called the Magic Eye and it's available for pontons only.
Binkowski's official website–> click here.
Aquapark Sopot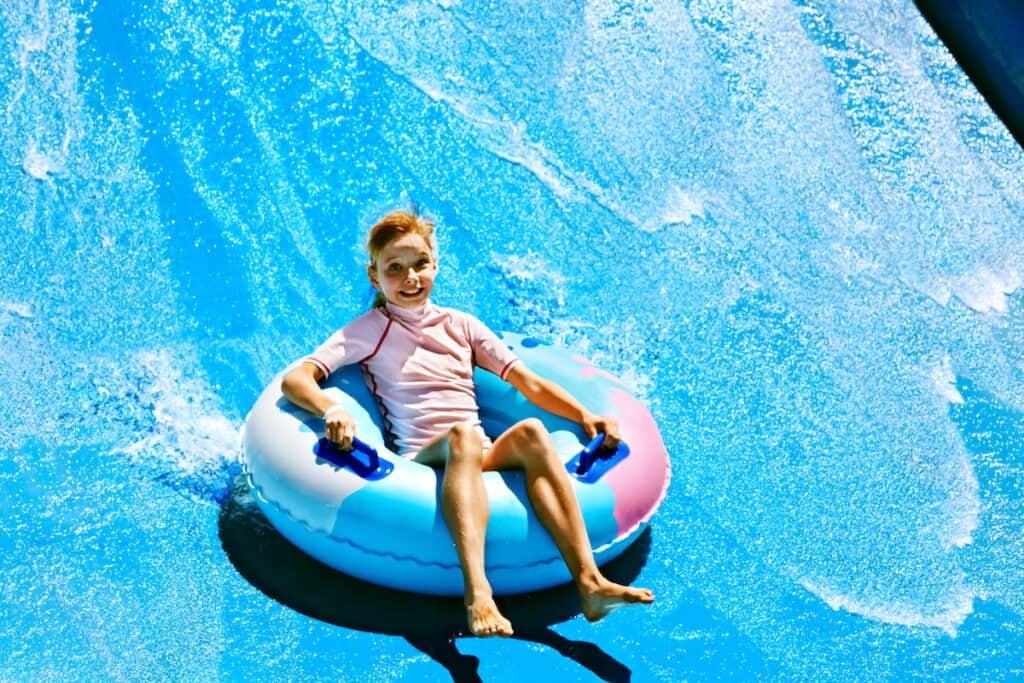 This water park is located in Sopot, one of the famous Polish seaside towns.
When you don't feel like going to the beach, visiting Aquapark in Sopot is a great alternative! Each person will find something to do there.
Sopot's waterpark has 5 baths with two different types of hydromassage and amazing saunas, from steam and Finnish sauna to Tepidarium.
In the main pool, you can find plenty of attractions such as a cave with a waterfall, a wave pool, and an all-year outdoor pool.
Kids can splash in the shallow, warm pool with water cannons, geysers, slide.
Sopot Aquapark's official website–> click here.
Aquapark Fala in Łódź
It is one of the largest water parks in Poland.
It's divided into three zones:
pool zone
saunas zone
Wellness & Spa zone
Aquapark in Łódź has an indoor and outdoor pool, as well as many water slides! The largest is 146m long!
Łódź Aquapark's official website–> click here.
Nemo Świat Rozrywki Water Park
It is located in Dąbrowa Górnicza. Nemo is not the largest water park in Poland but it's worth visiting if you are in the neighborhood!
Here's what you can find there:
swimming pool
relaxing pool with water massage
kids' pool with water attractions
jacuzzi
pool river
3 water slides
all-year outdoor swimming pool
saunas
graduation tower
seasonal summer outdoor pools for kids and adults
Apart from the water attractions, there are other amazing things to do at Nemo's. Before or after your visit, you may go to the gym, bowling, billiards, or a music club.
Nemo's official website–> click here.
Aquapark in Wrocław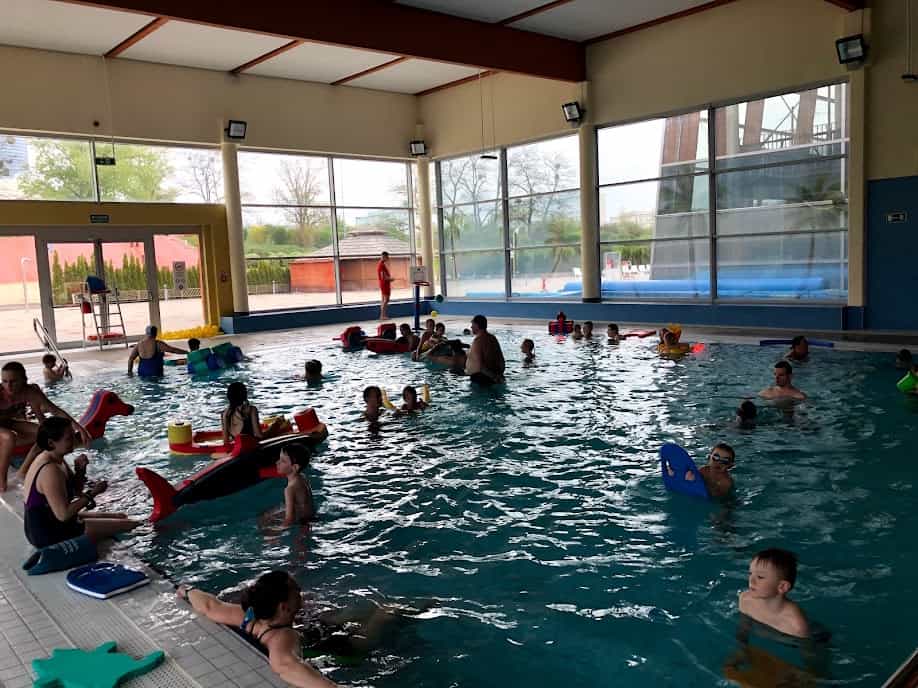 If you are visiting Wrocław, going to the aquapark is a pretty good idea!
The water park is rather small but it has all you need to have fun for a few hours.
Here's what you can find there:
kids' pool with water attractions
wave pool
lazy river pool
6 different water slides
jacuzzis
saunas
swimming pool
outdoor brine pool
seasonal outdoor pools
Wrocław Aquapark's official website–> click here.
Aquapark in Zakopane
This water park is outranked by all the other in Zakopane area, however, it's definitely worth visiting!
It's located in the heart of the town which makes it pretty unique.
Here are the attractions that you can find in Zakopane's Aquapark:
indoor and outdoor thermal pools
5 water slides
jacuzzis
wild river pool
water swing
kids' pool
swimming pool
saunas
Wrocław Aquapark's official website–> click here.