Poland is becoming a popular tourist destination for Europeans and tourists from all over the world. No wonder why! The country has it all from the beautiful lakes, and the Baltic Sea to the majestic mountains, and charming towns. If you are traveling on a budget or you are simply looking for the best campsites in Poland, this post is for you!
Read on to get the best tips for camping in Poland. If you have any other questions, feel free to email me or visit our Poland Travel Planning Support Facebook Group and let other travelers and Poles help you.
Tips For Camping In Poland
Wild camping in Poland
Can you camp outside the campsites in Poland? Yes and no.
In Poland, it's NOT forbidden to camp outside the campsites. However, you always need the owner's permission when you are camping on their land.
In practice, almost every land belongs to someone, either to the private owners or the government.
Camping outside the campsites is a grey area. It's not forbidden, however, it's also not permitted by law.
Can you camp on the beach in Poland?
In Poland, it's forbidden to camp on the beach.
Can you camp in the forest in Poland?
Yes but only in certain areas.
If you want to see the map of forests available to camp visit this website (follow the link).
It's quite difficult to navigate. Click the "BDL Maps" button at the bottom of the site, then choose "Tourist Infrastructure Map". You will see the map of "Spend the night in the forest" locations.
To sum up, if you are looking for free camping in Poland, spending a night in the forest would be your best choice.
You need to follow these rules:
you can only spend 2 nights (maximum) in one place
the group of travelers cannot exceed 9 people
If you want to spend more time in a specific place or you are traveling in a bigger group, you need to email the forest inspectorate before your trip to ask for permission for your stay.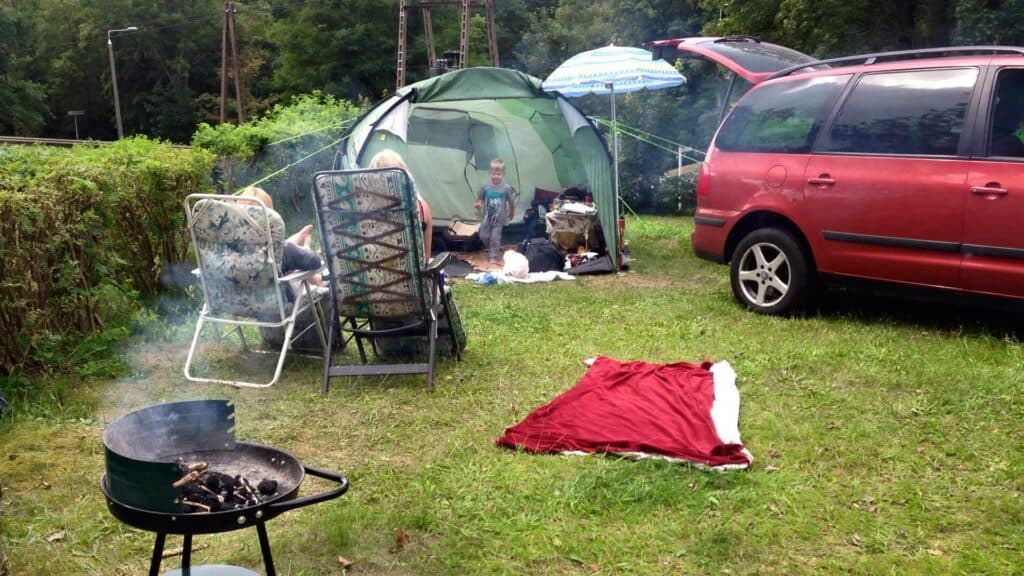 Can you camp in the mountains in Poland?
No!
It's forbidden to camp in the Polish mountains unless you do it in the campsites.
What's the best equipment for camping in Poland?
We found the car roof box with life-changing! Our car got so bigger. We use Inter Pack brand with customed bags that fit perfectly to the box.
We don't have a camper but we use Quechua Aprenaz tent that's perfect for our family of four.
List of campsites in Poland
If you want to find the nearest campsites in Poland, use Park4Night. It's so far the best camping search engine you can use.
Here's a list of some of the best campsites in Poland.
Camping near Wrocław
Camp4U is located in Siechnice, near Wroclaw.
Camping has a very rich offer of attractions and facilities. It offers 36 places for campers
and campervans, they are equipped with an electricity connection.
There is also a service point where you can wash your car, fill fresh water or empty dirty water or your toilet.
For guests that want to have some fun, there is a shisha bar with Czech beer, a pool with a beach, a sauna, and much more.
Camp4U can be visited all year long as there are also 5 fully-equipped houses with heating. Each house can accommodate 4 people.
Camping in Kraków
Camping "Smok" (dragon) is located close to the famous Wisła River.
It's located on the outskirts of Kraków, close to the zoo and Kopiec Kościuszki. You will be surrounded by the green nature and still you can get to the heart of Kraków using public transport in just 20 minutes.
Smok Campsite is fully equipped with different facilities available, including a kids' playground, barbecue spot, laundry, and much more.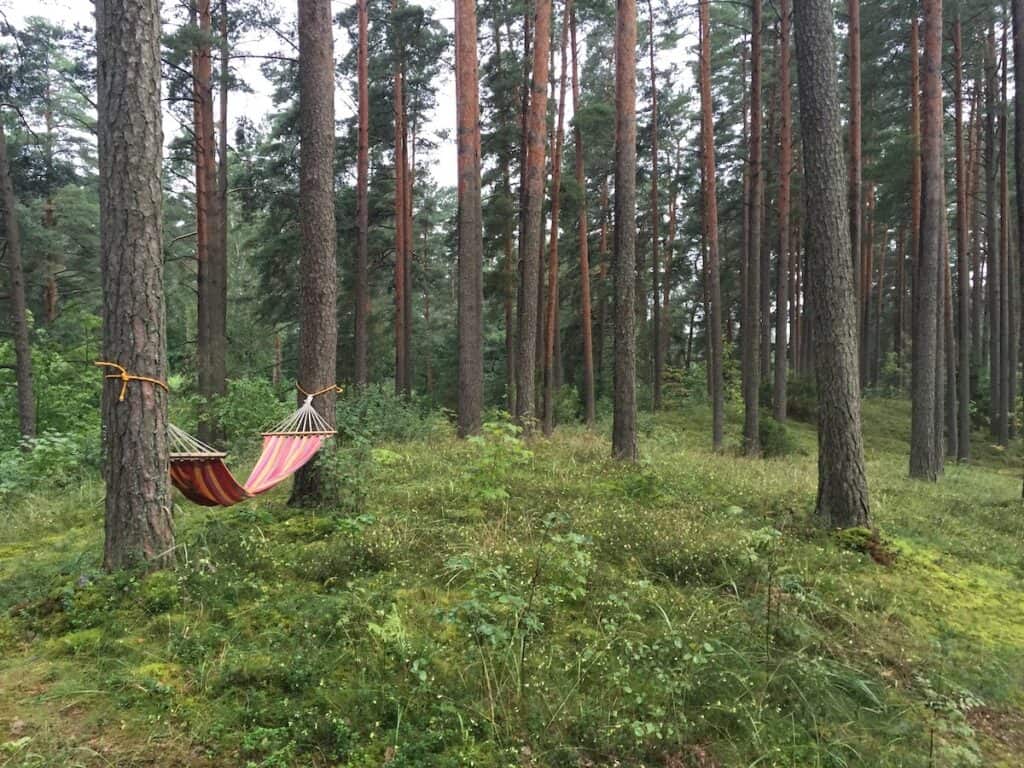 Camping near Lublin
Zielona Dolina is a campsite with a variety of attractions and facilities, including a playground for children, and a field where you can play football, tennis or volleyball.
You can spend your time actively kayaking on the Wieprz River next to the camping or taking a rest close to nature.
Zielona Dolina is situated near Kosmin, around 100km from Warsaw and 60km from Lublin. There are 60 campsite places, 11 camping places with electricity connection, modern toilets and showers, a kitchen and a place where you can get fresh drink water.
If you don't want to stay in one place, you can go on sightseeing in Dwor Kossakow,
a place where one of the Polish famous writers was born.
Camping near Warsaw
Kemping nad Pilica in Warka is in a close neighborhood to the Pilica river, 1 hour drive from Warsaw. This camping has everything needed to fully relax.
On the 8 hectar area, you can find 80 camper places with electricity connection, 30 additional places without electricity, campsite places, 4-person summer houses 2 kitchens, restrooms with showers, and a place where you can wash dishes.
If you wish to spend the active time you can play volleyball, football, and badminton, you can rent a kayak or go to the beach near the camping. There are also wooden houses with double- or multi-person
rooms if you wish.
Camping in Szczecin
Camping Marina has to offer 60 camper places with electricity and water connection, around 60 campsite places, and rooms in small houses. Here is also a taverna with delicious cuisine.
Camping in Poznań
Camping Malta is a combination of a hotel facility and a campsite located in Poznan. You can choose wherever you want to stay. Campsite offers 40 camping and 60 campsites places with modern sanitary and kitchen facilities.
There are many attractions available near the resort, including a playground for children, an ice rink, a skatepark, a regatta track and much more.
Camping in Bielsko-Biała
Camping Beskid in Bielsko-Biala is a newly refurbished place where you can stay and take a rest. In the camping area, you can find a restaurant that serves traditional Polish cuisine, a playground, a gazebo with BBQ, and a swimming pool, and near the camping is a toboggan run.
You can take a walk around the town and enjoy the mountain views.
Camping in Mazury
Camping Kama is placed at the lake shore in Mazury.
It is a beautiful area surrounded by lots of lakes with wonderful views. For the guests' use, there are 60 camping places, showers, toilets, a washing machine, a restaurant with Polish food, a sailing harbour, a playground, water slides and much more.
You can also rent one of the wooden houses. Masuria has much more to offer. Near the camping are beautiful towns and villages worth seeing such as Mikolajki, Mragowo, or Ryn.
Camping in Ciechocinek
Camping Ciechocinek is a modern 3* standard facility camping with places for campers with electricity, water connection, campsite places, kitchens, restrooms, playground, and much more including WiFi.
It's a pet-friendly place, so if you don't want to leave your pupil alone you are more than welcome to
come with them to Camping Ciechocinek. It's fully monitored and secured by security.