Poland is a beautiful and underrated country with rich culture, welcoming people, and beautiful cities and landscapes. It's no surprise that you chose the country as your destination.
However, you may start asking yourself: What are the things to pack to Poland?
Every country is different, so it's natural to start doing your own research on what to expect on your trip. Is cash accepted, or do cards dominate the payment methods? What about visas and other documents? How different is the weather between all four seasons? Can we expect any out-of-the-ordinary customs or situations?
Let me give you a quick but comprehensive guide to your go-to travel checklist for Poland.
Should I Bring a Card or Cash?
In large cities, the card is the king. The best travel cards to use in Poland are Visa and Mastercard since they are widely used and accepted; other companies such as American Express, Maestro, or Discover aren't as common in Poland. In fact, there are card terminals that don't accept these cards at all, so keep that in mind when choosing a travel card.
That being said, all shops and restaurants in big cities such as Warsaw, Kraków, or Tri-city accept cards. In fact, there will be venues that will only accept payments by card. Even vegetable and fruit stands on the street or in bazaars have terminals on them. This is great because of how city folks, especially the younger generations, pretty much-bid farewell to carrying cash on them.
On the other side of the spectrum, if you are planning to visit Polish towns and villages, especially those less popular with tourists (like the rural areas around Warsaw that will offer apple picking), you'll find the cash to be a lot more popular. While cards will still be accepted in 90% of places, there may be one or two old-school places that cling to cash payments.
While cash proves useful for small purchases, it'll also come in handy when you are tipping in Poland. While that may vary from one place to another, it remains prevalent enough in urban areas.
So, when you start preparing financially for your trip to Poland, keep in mind that it'd be wise to have some loose change on hand for smaller expenses and use a card for the bigger purchases.
Remember that despite being a part of the EU, Poland doesn't use euros! We have our own currency – Polish złoty (PLN).
Prepare Your Documents!
Like when traveling to any other country, making sure you and your companions carry valid passports or national IDs is quite crucial. Depending on your nationality, you may need a visa to be granted entry to Poland.
Here's handy information: Poland falls within the EU Schengen area, which means that if you have a valid visa in another European Schengen country, then you'll be able to roam freely around Poland as well. The Schengen Zone is an agreement between multiple EU countries for visa-free travel.

Source: HandyVisas
The ease of visa approval will vary on your nationality, the purpose of your visit, and the planned length of your stay. There are over 60 countries that are exempt from needing a visa when traveling to Poland, whose citizens can relish the freedom of staying for up to 90 days without a visa application.
Starting in 2024, due to the European Commission's implementation of an electronic registration system, individuals from visa-exempt countries will need to fulfill an extra mandatory condition to enter Poland.
This new system, known as the ETIAS visa waiver, will require individuals to pre-register online for travel authorization if they intend to visit Poland (or any Schengen country) for business, tourism, or transit purposes. Once approved, the ETIAS visa waiver will be electronically linked to the passport of the holder and allow multiple entries.
Upon your arrival in Poland, there may be instances where you'll be required to present your ID card or driver's license to verify your age. This can be necessary when you are renting a car (although public transport in cities is very efficient and well organized!), —-or if you wish to use electric city scooters in the summertime (i.e., Lime, Bolt, Dott), which have grown in popularity immensely. For safety reasons, you do need to be over 18 to be able to use them.
Lastly, you do not need any Covid-19 documentation, as Poland has dropped all pandemic-related requirements as of 2023.
Do I Need to Prepare For Different Weather Conditions?
The answer is —-YES. Poland's four seasons are very distinct and, most importantly, ever-changing. Depending on when you visit, there'll always be something to do in Poland all year round, even when the weather changes drastically every 3 months—and therefore, so does the travel checklist.
When crafting your winter trip checklist for an adventure in Poland, make sure to pack plenty of warm clothes. Back in the day, the temperature could plummet to -20°C (-4°F), nowadays the winter weather typically hovers around -10°C (14°F), although this can vary in mountainous areas of Poland. A warm coat, a cozy hat, and a snug scarf are practically indispensable. Add a few warm sweaters and woolen gloves to your must-have list as well.
Then comes spring in Poland, which is a bit of a ping pong season—we call it "kwiecień plecień" in Poland, which means that April serves us warm and cold weather alternately. You can expect beautiful sunshine and rainy, cloudy days all at the same time (sometimes even on the same day). It's best to pack a waterproof jacket or a coat with a hood, just in case. The temperature is generally speaking pleasant, averaging around 13°C.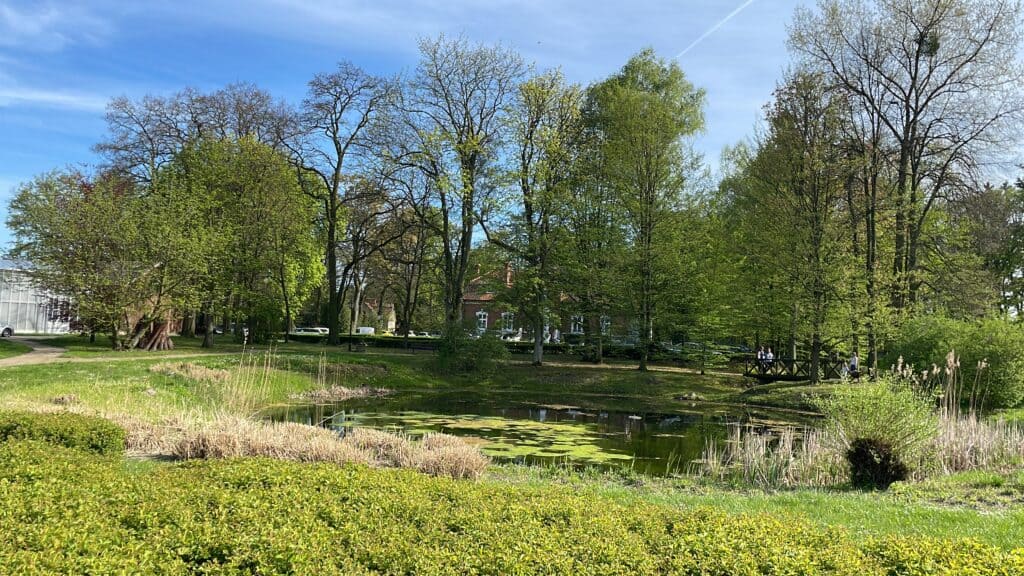 Now summer may come as a surprise to many because summers in Poland are HOT. The temperatures can reach a whopping 39°C (102.2°F) at times! As you gear up for the summer season, it is essential to prepare proper, breathable summer clothing, including a cap, because the sun will be shining brightly, and you'd want to stay cool and protected.
Always keep water on you to hydrate properly. If your travel itinerary includes spending time near water during your Polish adventure, it may also be a good idea to bring mosquito repellent, as bugs in Poland can be a real fun spoiler!
Lastly, let's not forget about the Polish autumn. In terms of weather, spring, and autumn share similar temperatures, so a light jacket and a sweater are wise choices. If you are planning to go mushroom picking—since autumn is the season for it, I would highly recommend packing a pair of trusty rainboots with you, too.
Other Things To Pack For Poland
I would definitely prepare your travel itinerary in advance. If you are planning to explore more than one city in Poland, consider buying train tickets beforehand. Polish cities are well connected, offering the choice between trains, buses, or rental cars to conveniently travel between them. 
Look into some hidden gems in different cities, and add them to your list of Polish must-sees. For example, polish museums are truly phenomenal, even those slightly unexpected ones—there's a Neon Museum in Warsaw, as it was dubbed the Neon City during the Cold War. Of course, don't forget about the beautiful national parks, either.
Remember—all places in the world have their own hidden gems; you just have to put some effort in to find them!
To Wrap Up
Those are just some very specific essentials for your trip to Poland.
Poland is a stunning country with a rich culture and friendly locals. To make the most of your trip, it's essential to be prepared and know what to pack.
It also allows you to travel stress-free and truly enjoy some awesome Polish beer with (hopefully) your new, amazing Polish friends.
If you have any questions about Poland, join our Poland Travel Facebook Group. We will be happy to help you!
The author of this post is Klaudia Pham from Life and My Finances.