As Christmastime approaches, Poland gets ready to celebrate one of the most important holidays of the year. Polish Christmas celebrations are deeply rooted in family, tradition, and, of course, delicious food. Therefore, Christmas dinner in Poland (Wigilia) is the most important day out of the whole of Christmas.
In this ultimate guide, I will take you on a journey through the cherished dishes and most popular traditions. I hope I will be able to give you a feeling of what Christmas dinner in Poland means to people.
If you want to learn more about Christmas traditions in Poland, go to Polish Christmas Traditions: How Do We Celebrate Christmas In Poland?
Wigilia – The Christmas Eve Dinner
In Poland, Christmas Eve is the focal point of the holiday celebrations. The Polish word for this day is "Wigilia" (vee-ghee-lya).
Wigilia means Eve in English, but in Polish have reserved this word particularly for this one day. Also, the dinner time on that day, Polish called "Wigilia" or "Wieczerza Wigilijna".
It is a meatless meal traditionally, taking place always on the 24th of December. This time emphasizes the importance of fasting and reflection before the joyous celebration of Christmas Day.
The tradition says to put 12 dishes on the table. Some dishes might vary in different regions, but the concept is everywhere the same. It is time to reconnect with family from near and far. To feel the unique atmosphere and to enjoy the time spent together with delicious food.
The First Star In The Sky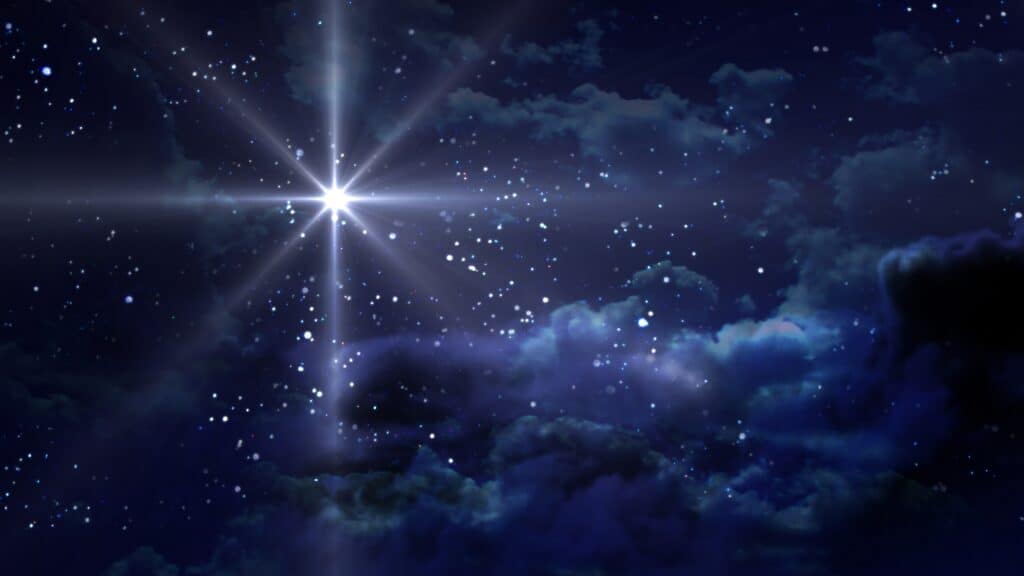 This is the moment all children are waiting for, the time when the first star lights up in the sky. What is so special about this moment? The first star in the sky is the sign that it is time to start the Christmas dinner in Poland. This symbolizes the star that was a guide to the shepherds going to greet the baby Jesus.
When Does The Santa Claus come?
Well, the tradition is in favor of children in Poland. Santa Claus comes to visit them and brings them their gifts on Christmas Eve. Somehow, it usually happens during the dinner, when everyone is focused on the dinner and family talks.
In some miraculous way, gifts appear under the Christmas tree. The joy of the moment, when kids realize that Santa has visited them, is priceless.
For ideas on traditional Christmas gifts, read the traditional Polish Christmas gifts ideas.
The Twelve Traditional Christmas Eve dishes
Barszcz z Uszkami (beetroot soup with mushroom-filled dumplings)
The dinner typically begins with Barszcz, a beetroot soup served with mushroom-filled dumplings called Uszka. This soul-warming soup sets the festive tone with its rich color and hearty flavors.
Pierogi
No Polish Christmas dinner is possible without Pierogi, delicate dumplings filled with a variety of ingredients. During Wigilia, these dumplings are commonly with sauerkraut and mushroom filling.
Karp smażony (crispy fried carp fish)
While fish takes center stage during Wigilia, Carp is the traditional choice for the main course. The custom of serving carp is not so old itself, however, fish as a dish goes back centuries and symbolizes Christ and long-lasting life.
Kutia
It has a special significance and Christmas Eve Dinner begins with it. It is cooked of decorticated wheat grains, poppy seeds, honey, walnuts, and raisins.
Kapusta z Grzybami (Sauerkraut with Mushrooms)
A side dish made with sauerkraut and mushrooms, it adds a tangy and earthy flavor to the meal, complementing the richness of other dishes.
Piernik (gingerbread cake)
A spiced honey cake, piernik is often shaped into festive figures or houses. Its rich flavor and dense texture make it a favorite during the holiday season.
Ryba Po Grecku (Greek-style Fish)
This dish features fish, often cod or herring, cooked in a tomato-based sauce with root vegetables and spices. Its name may suggest Greek influence, but it has become a beloved part of Polish Christmas cuisine. And the funny part is, that it doesn't have anything in common with Greek Kitchen.
Kompot z Suszu (Dried Fruit Drink)
This is a non-alcoholic fruit compote. Kompot z suszu is made of dried fruits, such as apples, pears, prunes, and apricots, in water with sugar and spices.
It is a sweet and flavorful drink that brings the final touch to the Christmas table. And the smell of this drink instantly brings to think about Christmas.
Gołąbki z Kaszą i Grzybami (cabbage rolls with buckwheat and mushrooms)
These cabbage rolls are a cherished part of the Wigilia, with leaves filled with a hearty mixture of buckwheat and sautéed mushrooms, creating a satisfying and flavorful dish.
Sernik (Cheesecake)
A delightful addition to the traditional Polish Christmas Eve desserts, the cheesecake brings a creamy and indulgent flavor to the festive spread.
Often garnished with seasonal fruits or a dusting of powdered sugar, the cheesecake is a crowd-pleaser that adds a decadent touch to the culmination of the Wigilia feast.
Makowiec (poppyseed roll)
For dessert, Makowiec is a popular choice. This sweet roll is with a mixture of ground poppy seeds, honey, raisins, and nuts, creating a delightful and aromatic treat.
Sałatka Jarzynowa (Boiled Veggies Salad)
It's the most popular Slavic salad that is popular not only for Christmas but all year long. You can find recipes for those dishes on the Polish Foodies blog.
The Christmas Dinner in Poland – Table Set Up
Setting the table for Christmas dinner in Poland is a precise and meaningful process. It reflects the cultural and traditional significance of Wigilia. F
or most housewives, is the most important part of the whole of Christmas decoration. Christmas Markets are perfect places to look for unique decorations.
Festive Tablecloths
In older days, the Christmas table must have been covered with a spotless white tablecloth.
Today, some people stick to this tradition, and others go for a more festive look, with tablecloths decorated with Christmas ornaments.
The Best Tableware
The best set of plates, cutlers, and glasses is securely stored in most homes, waiting for its showtime on Christmas Eve. Housewives take care of every detail, so that the festive table will present itself at its best.
Hay Under the Tablecloth
There are always a handful of strands of hay tucked under the tablecloth, or just under the plate with opłatek.
This tradition symbolizes the humble birthplace of Jesus and brings good fortune to the household. This tradition is so strong, that hay is sold in shops before Christmas.
Empty Place Setting
The empty seat is another tradition that goes back hundreds of years. Also, this seat gets the shiny tableware, there is no exception, and it remains untouched throughout the dinner.
Candles and Lighting
Candles are a very important part of the Christmas Eve table. It has not only decorative value, but it also symbolizes the waiting time for baby Jesus to be born.
Traditional candleholders or festive candelabras add an elegant touch, and they are carefully matched with the rest of the decoration.
Centerpiece – stroik
If the space at the table doesn't allow for such a centerpiece, it will be placed somewhere near the table, and more attention will be given to decorative candleholders. The stroik is usually made with Christmas tree branches and Christmas ornaments.
If you want to see how the authentic Polish Christmas Dinner looks like, here's a video I made with my family a few years ago:
The Symbolism of Wigilia
Religious Observance
There are many religious rituals that take place during Christmas dinner in Poland. It is important, especially to the elder generation to practice this.
They give a lot of effort to pass this tradition to the new generation. Bible reading, Carroll singing, and going to church take place in the majority of homes.
The Empty Place Setting
Another old tradition, a very beautiful one, is of an empty place sitting at the table. Even in the smallest flat, there will always be enough room, to leave this empty sit.
It is a symbolic gesture, representing the openness to welcome unexpected guests or the spiritual presence of late loved ones.
Sharing the Opłatek, and wishing for Good Fortune
Before the dinner starts, families engage in the most touching tradition of sharing the "opłatek" (Christmas wafer).
Each person takes a piece of the opłatek and exchanges good wishes and blessings with every member of the family cutting off a small piece of each other's opłatek. This symbolic gesture fosters unity, and forgiveness. It is a time when all family fights are forgotten, at least for some time.
Caroling and Kolędy
After the meal, it's common for families to sing the traditional Polish Christmas carol "koledy". It is even more festive in homes, where some members know how to play musical instruments.
Midnight Walk to Church – Pasterka
Midnight walks to the local church after the meal is a cherished tradition. The midnight mass is actually the time when people can sing carols.
"Pasterka" is a significant and traditional Christmas Eve Mass in Poland, held at midnight.
The term "Pasterka" is derived from the Polish word "pasterz," meaning shepherd. It commemorates the shepherds who, according to Christian tradition, were the first to visit the newborn Jesus in Bethlehem.
Wigilia, the Polish Christmas Eve, is more than a feast. It's a reflection of traditions that bring together faith, family, and community. The religious rituals, the symbolic sharing of opłatek, and the exchange of wishes are steeped in Polish culture. The twelve dishes, carol singing, and family being together is a precious moment, that I hope we will carry on to the next generations.