Are you visiting Poland's capital city soon? Let me give you the best tip for your trip. Check the indoor activities in Warsaw. The thing is that the weather in Poland is hard to predict. You might see the forecast with sunny days ahead, but it turns out, it rains all day long. There is nothing we can do about this, but we can tell you, what to do in Warsaw on a rainy day.
Kids Indoor Activities in Warsaw
As a mother of two, I know what it means to travel with kids to a new place. It gets really hard when the weather is not in your favor. Indoor activities and fun places are the best places to let go of the energy and have an excellent time. Where to go in Warsaw?
Smart Kids Planet – Age 0-10
This is not just a regular indoor playground. It is a place full of creative toys and attractions that engage children to "work" and play.
Kids can travel to space, train motor skills, become an engineer, and build a city. This is a great place for kids under 10 years old. And parents can relax in a nice café, while watching their children learn, and have fun.
Location: Fabryka Norbilna,
How to get there: metro station "Rondo ONZ"
Entry Tickets: Daily pass 79PLN, 9 PLN guardian
Copernicus Science Center
I have mentioned this place many times in other articles, and it is truly a place worth visiting. Firstly, it is your best answer to the question: "what to do in Warsaw on a rainy day". The installation and interactive activities will keep you occupied for hours.
Interactive exhibitions, all can be touched, explored, and played with. Planets, body organs, physics, games, experimental zones, robotic theater, hundreds of attractions, and it gets more of them all the time.
This is most probably a place where you can get the answer to every question you possibly have. I actually recommend adding this indoor activity in Warsaw to your list, regardless of the weather.
Location: Vistula Boulevards, near the Old Town
How to get there: metro station "Centrum Nauki Kopernik"
Entry Tickets: Best to order online tickets ahead of time, visit the museum website to see the prices.
Hangar 646- Trampoline Parks
Hangar 646 is one of the most popular options for indoor activities in Warsaw. Popularized by many YouTubers having their sessions there, became the must-visit place for kids in Warsaw.
The trampoline park is a great place to have fun for the whole family. Trampolines, slides, obstacle courses, climbing. All this is located in spacious premises, with toilets, a changing room and a café facility.
The chain has three parks located across the city, Gocław, Mokotów, and Targówek. After entering the trampoline zone, go under a short warm-up, followed by instructions on how to use the equipment. The session is one hour, and trust me this is enough to get the sweat on your forehead.
Location: Mokotów, Gocław, Targówek
How to get there: Mokotów- metro M1, station "Wilanowska"; Gocław- busline 117; Targówek- Metro M2, station "Trocka"
Entry Tickets: The ticket price depends on the day of the week, hour, or age, but it fits within 27-37 PLN. You would also need to get a pair of jump socks- 7 PLN, that you take home with you. It is a good keepsake, that kids love. For a detailed price guide, check Hangars' website.
Palace of Culture and Science
This is the tallest building in Poland, and it contains, as the name says it, venues offering art and science. 4 independent Theaters, a cinema, many exhibitions, very good restaurants, and cafés, a museum of technology, and a museum of evolution. A perfect place for business conferences, tourists, and art live. The cherry on the cake is – the viewpoint on the 30th floor, from where you can see the whole of Warsaw.
Many visitors just take the lift and go directly to the viewing deck, and I strongly encourage you to explore what this enormous place has to offer.
You can get lost there for the entire day, visiting all the exhibitions, eating at the restaurant, going to the cinema session, and indulging in a life performance at the theater. This is one of the best things to do in Warsaw on a rainy day.
Location: City Center
How to get there: This is the heart of Warsaw, and next to eat is a main railway station.
Entry Tickets: ticket price is 20Pln to the museums,

45PLN – a guided tour of the palace,
25 PLN- Lift to the viewing deck
For theater and cinema tickets, visit the official website of Palace of Culture and Science
Museum World of Illusion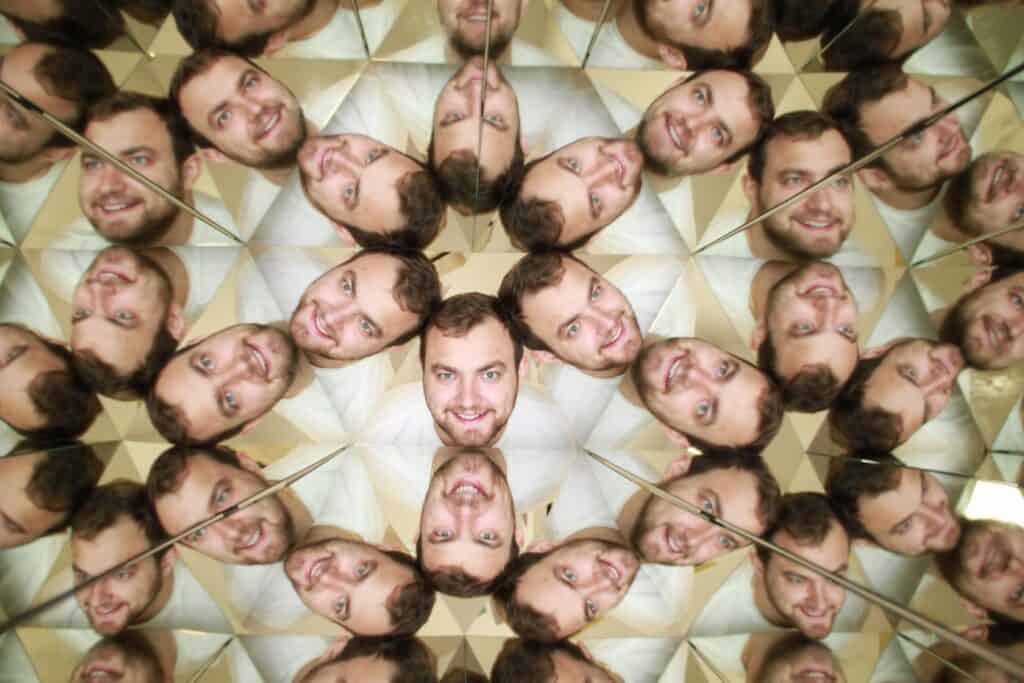 This indoor activity in Warsaw will keep you occupied only for 20 minutes, but it will feed your eyes, to keep you in awe for the rest of the day. You will find the Vortex Tunnel, Matrix World, Kalejdoskop. Shadows Room, and Mirrors Room.
Location: in the heart of the Old Town
How to get there: from the main railway station, tram line 4
Entry Tickets: 40 PLN, with many discounts for minors, and group entries
Cooking Dumpling Classes
Now, doesn't that sound great? Not only, you don't need to wonder what to do on a rainy day in Warsaw, but you will get a handmade meal too.
Plus, you will learn how to make the most popular Polish food. Classes are held until evening hours (late sessions include drink), you can book a lesson with a group of friends or with your family.
Location: Stawki str. Muranów district
How to get there: tramp, line 15,35,78
Entry Tickets: 170 PLN per person for 2,5 hrs session, groups of max 10 people
NBP Money Center
This is yet another place I like to recommend to tourists visiting Poland. As it takes a good 2-3 hours to explore the whole place, it is a perfect indoor activities in Warsaw, when it rains. What can you find in this interactive museum?
There are 16 permanent exhibitions, among them, you will see: Vault, Monetary Systems, Antiquity–Middle Ages–Modernity, Laboratory of Authenticity, and Creator of Money and Money Production. This is an educational center, that will make you understand the role and creation of money.
Location: Śródmieście dystrict
How to get there: metro line M2, station "Nowy Świat".
Entry Tickets: Free entrance, groups over 10 need reservation, more details on the NBP Website
The National Museum
The museum houses a wonderful collection of paintings, sculptures, and crafts from all eras, from antiquity to the present day. Masterpieces of Polish and world art are presented in thematic galleries.
The Museum, apart from the permanent exhibitions, hosts also seasonal, and these are always very interesting too. It will take you about 3 hours to explore the museum.
Location: "Śródmieście" district
How to get there: metro line M1, station "Centrum", tram, line 7
Entry Tickets: The regular price is 20 PLN, for discounts and seasonal exhibitions see the Museum's official website.
The Royal Castle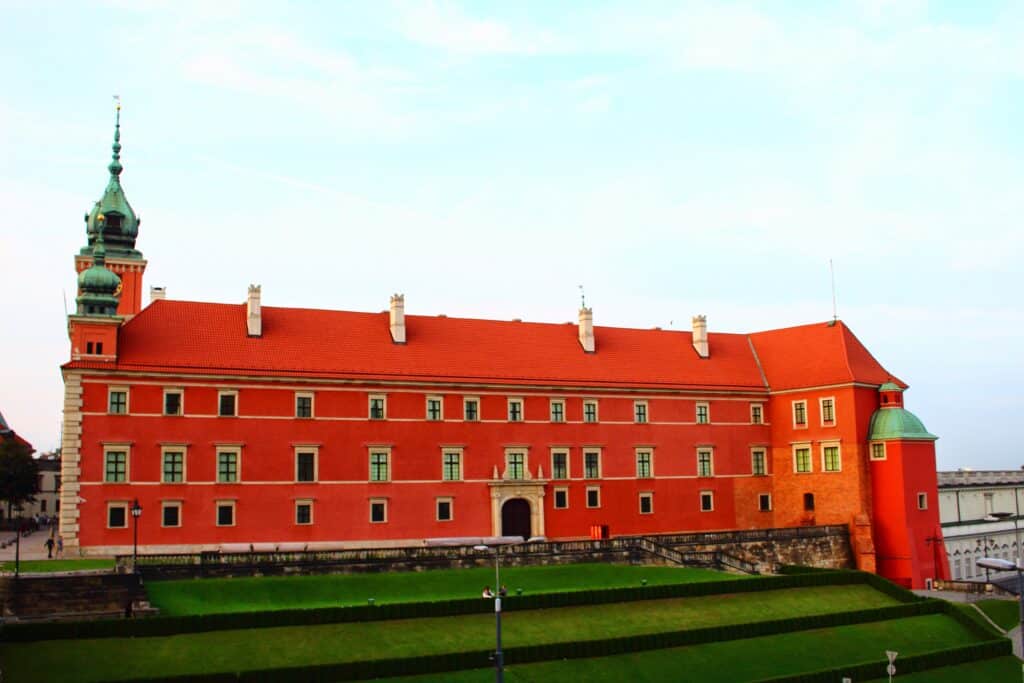 If you wonder what to do in Warsaw on a rainy day, the castle is definitely a good place to go. Royal chambers, vault, regalia. In addition to living rooms, you can also visit special rooms, warehouses, workshops, stables, powder magazines, prisons, forges.
Take your time and have a lunch break in the castle's restaurant. If the weather for the whole day is not good for sightseeing, there is another great place to visit near the castle. The National Stadium.
Location: the heart of Old Town
How to get there: tram line 4,13
Entry Tickets: The regular price is 50 PLN, for discounts and reservations visit the Castle official website.
National Stadium
If your kids, or yourself, love football, this will be the real feast for your family. You can feel there as the greatest football stars – you could sit on the bench and enter the stadium, and then you could see the conference room, where players and coaches give interviews after the match.
For more intense experience there are gokart tracks, and even more extreme – Tyrolean descent at the height of 50 meters and speed of 60 km/h.
Location: Praga district
How to get there: metro line M2, station "Stadion Narodowy"
Entry Tickets: The regular price is 20 PLN, for discounts and seasonal exhibitions see the Stadium official website
Indoor Activities in Warsaw – Adults Only
Polish Vodka Museum
An interactive exhibition of Polish Vodka, with over 500 years of history and tradition connected to this beverage, and a story of what made Polish Vodka famous worldwide.
The premium ticket entitles you to participate in the tour extended by premium tastings of Polish vodka and to receive the unique diploma of Polish Vodka Connoisseur.
Location: Praga
How to get there: metro line M2, station "Wileński"
Entry Tickets: The premium price is 70 PLN, for more details visit the official website Polish Vodka Museum
Casinos
In casinos, it is hard to tell day from night, so it really will not matter if it rains outside. If you are a fun of such places, you will be pleased here, as there are some superb casinos in Warsaw. Of course, you must be aware that this is a hazardous activity, and you risk losing money.
Marriott Hotel and Hilton Hotel offer a state-of-the-art casino. If you are up for more budget-friendly venues, Hotel Gromada might be your choice.
Location: many bigger hotels will have it, check websites.
How to get there: Taxi
Entry Tickets: Tokens, and good luck 🙂
More Indoor Activities in Warsaw For The Family
Suntago Water Park
There is always a good day to go to the water park, especially when it has a roof over your head. Suntago is a covered water park, with a huge outdoor swimming pool too, that operates even in small rains.
This park offers 3 zones, with different attractions: slides, relax zone, and saunas. It is one of the biggest water parks of the type in Europe, and it is a newly developed complex, therefore, you will not be disappointed.
The park is located outside of Warsaw, however, there is a direct bus connection, and parking spots are available as well. If you seek more information about this place, read this article, with my insider guide.
Location: Mszczonów
How to get there: Jerezolimskie Ave. stop, bus goes every 30 minutes
Entry Tickets: 35 PLN, for reservation check the website Suntago
So, what to do in Warsaw on a rainy day? Now, you have plenty of options. If you are looking for more niche indoor activities in Warsaw, contact us directly, for more information.