The capital of Poland is truly magical! There are so many things to do in Warsaw that you could easily spend a few weeks there and won't get bored. If your time is limited, here is a complete guide on what to do if you only have one day in Warsaw.
How To Get To Warsaw?
Warsaw is the capital city of Poland, and it is located in the center of the country. There are two international airports in Warsaw, Chopin Airport and Modlin Airport. The first is actually on the very outskirts of the city, less than 30 minutes drive from the center. The Modlin airport is about 40 km away, and it is well communicated by trains.
The train is the other option for easy access to Warsaw. Berlin, Vienna, Prague, Budapest have direct connections to Warsaw, and the tickets are a bargain in comparison to plane tickets.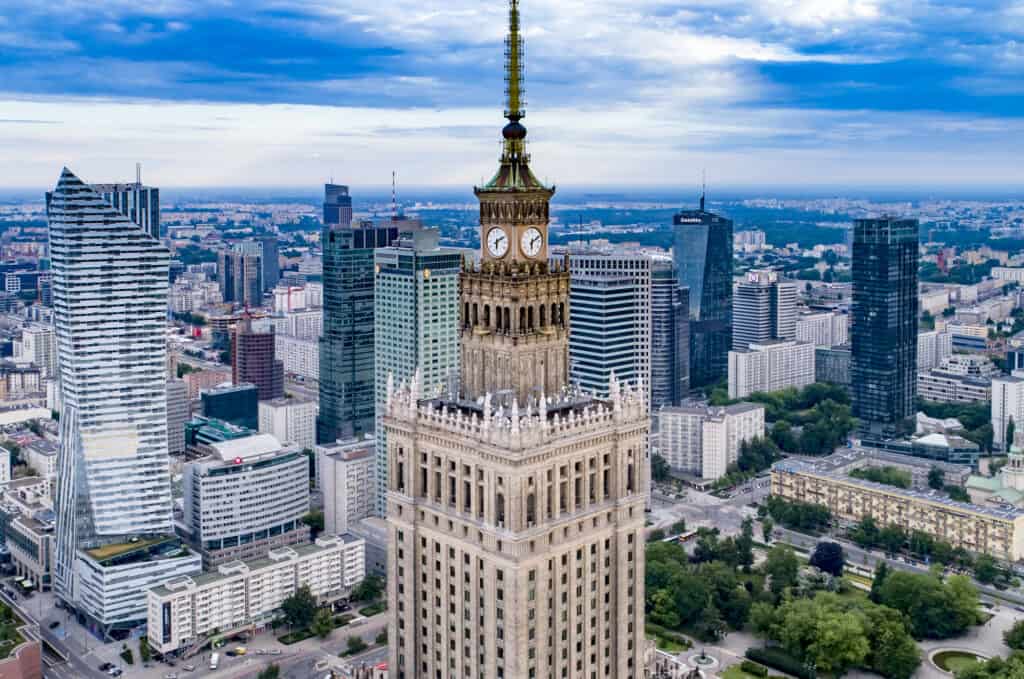 Where To Stay For One Day In Warsaw?
If you only have one day in the city, I recommend you find a place to sleep near the center.
Hotels such as Marriott, Intercontinental, or Radisson Blu are all located near to the Center and Old Town. These are high-end hotels, with a price ranging well above 100 euros per night, however, if you are looking for a stay on a smaller budget, there are many apartments and hostels available.
Top Things To Do When You Have One Day In Warsaw
It is not possible to see everything there is to see in Warsaw in just one day. But it is enough to get under your skin and to feel the charm of this place.
Royal Route – 1,5 hrs
Since most indoor attractions in Warsaw open their business at 10 am, a walk down the Royal route is best to start with.
Nowy Świat and Krakowskie Przedmieście street make one 1.5 km long route that leads to the Royal Square. The road is filled with restaurants, coffee places, art shops. Presidential Palace, Nicolas Copernicus Monument, beautiful churches and monuments of famous polish artists.
Saski Garden – 30 minutes
In the middle of Royal Route, to the left, is located Saki Garden. You will find in there the Unknown Soldier Tombs, a memorial to all fallen in defense of Poland and freedom.
If you are an art lover, Zachęta Art Gallery is the place for you, it is just across the street from the park, and it is one of the most known art galleries in Poland.
Castle Square, Old Town Market Square and Barbican – 2 hrs
At the end of the Royal Route, the Royal Square stretches out with an 8 meter tall Sigmund's Column (Kolumna Zygmunta). This is a perfect place for a short break.
The Old Town Market is full of restaurants, so you can grab lunch here. And this is a perfect place to get lost among the little streets of the Old Town.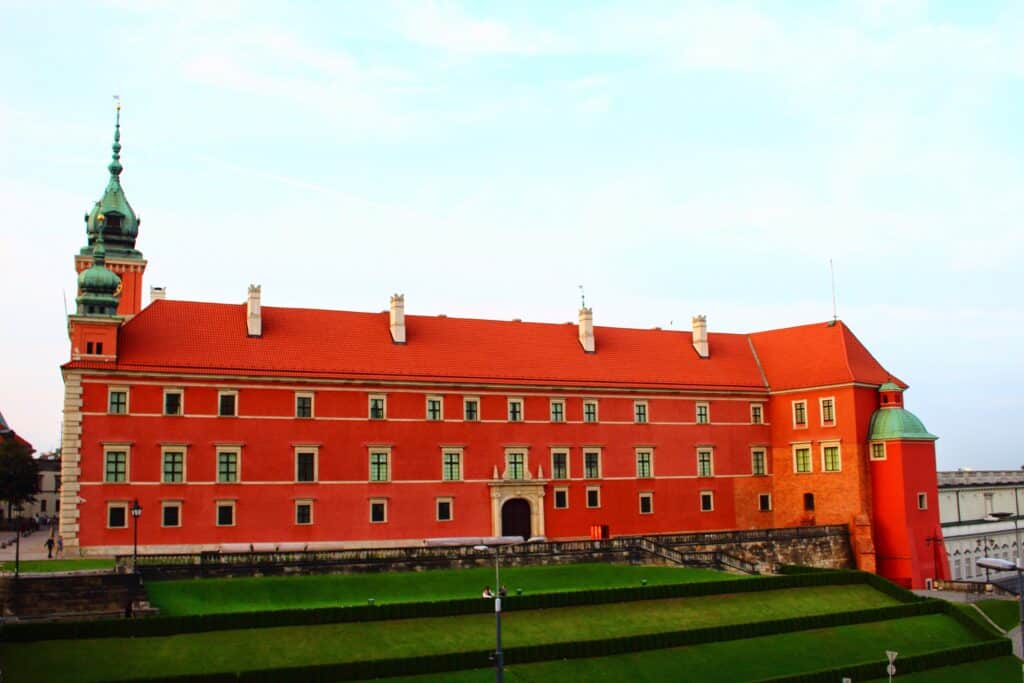 Royal Castle – 2 hrs
Royal Castle opens its door free of charge on Wednesdays, so expect crowds if you happen to visit it on this day. The Royal Castle is a historic architectural gem of Poland. It served as the official residence of Polish monarchs and is a symbol of the country's rich history and culture.
The castle, reconstructed after its destruction in World War II, showcases impressive Baroque and Neoclassical elements. It houses a vast collection of artwork, including paintings, sculptures, and royal artifacts, providing visitors with a glimpse into Poland's royal past.
Bullevards – 2hrs
The Boulevards, located in the heart of Warsaw, are a picturesque space along the banks of the Vistula River that offers a fantastic retreat and unique views. It's a place where residents and tourists can enjoy walks, picnics, and various outdoor activities.
The boulevard is a special place that combines history and modernity, with the transformation of former defensive walls into a charming recreational area. Strolling along the river, you can admire the city skyline, historic bridges, and modern architecture. You will see there a famous Syrenka, a monument of the mermaid, that is the symbol of Warsaw.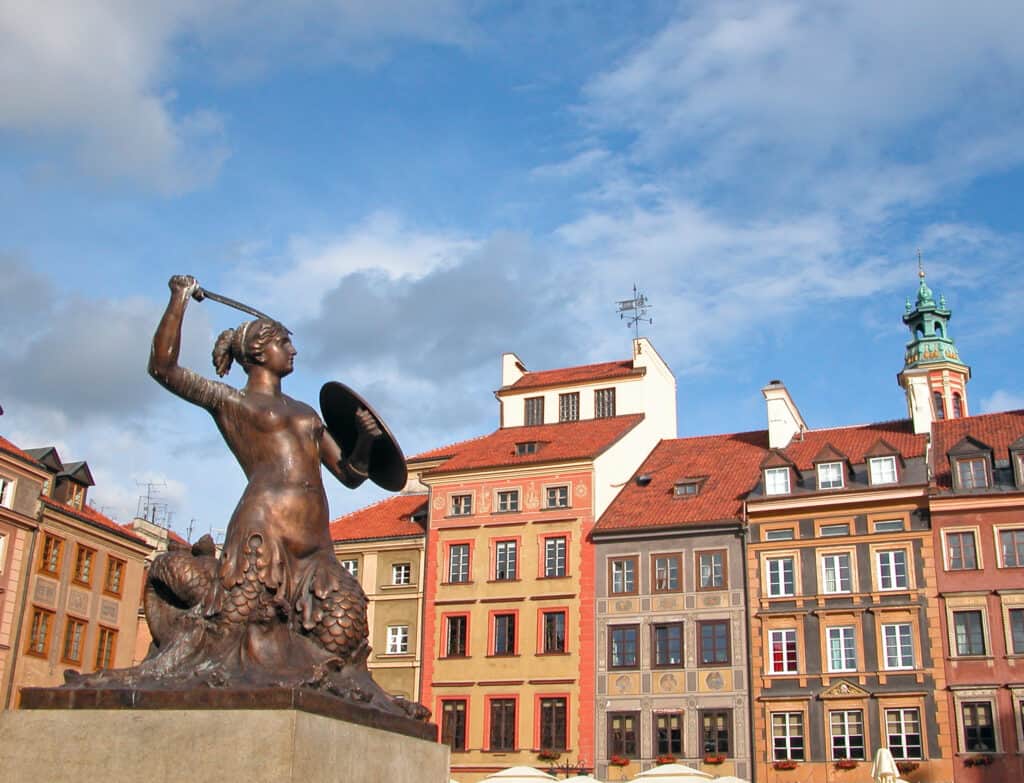 Learn The History Of Warsaw – 2 hrs
To truly understand the history of this city you should visit at least one of the few museums, that carry the tragedy and the truth about the horror of the World War II
Warsaw Uprising Museum. In this interactive museum, you will get to relive the events that led to upraising, what happened during that time, and the tragic outcomes there were for the city and the people.
Polin Museum. It is a unique place that commemorates and tells the story of 1000 years of Jewish presence in Poland. This dynamic and interactive museum takes you on a journey through the rich culture, traditions, and history of the Jewish community.
The POLIN Museum is an integral part of Warsaw's cultural landscape, with values and significance that are of great importance to Polish history and heritage. This place will leave a mark on your soul, and will give you a new perspective of what Poland meant over the centuries.
WIlanow Palce. If you prefer to admire architectural splendor from the Baroque era, Wilanow Palace will satisfy your desires. The Palace is an extraordinary place and one of the most important historical landmarks in Poland. It was built in the 17th century and served as the summer residence of King Jan III Sobieski.
The palace impresses with its baroque architecture and stunning surrounding gardens. The interior of the palace is equally impressive, adorned with rich decorations, paintings, and sculptures. It allows visitors to experience the atmosphere of the former glory of the Polish royal court.
Lazienki Park – 1,5 hrs
Royal Lazienki Park is not just any other park. This place holds n amphitheater, monuments of famous Poles, including the most famous Frédéric Chopin.
It is a real forest in the middle of a modern and buzzing city. Squirrels, peacocks, and pheasants house this herstory just like hundreds of years ago, and you can actually observe them from close.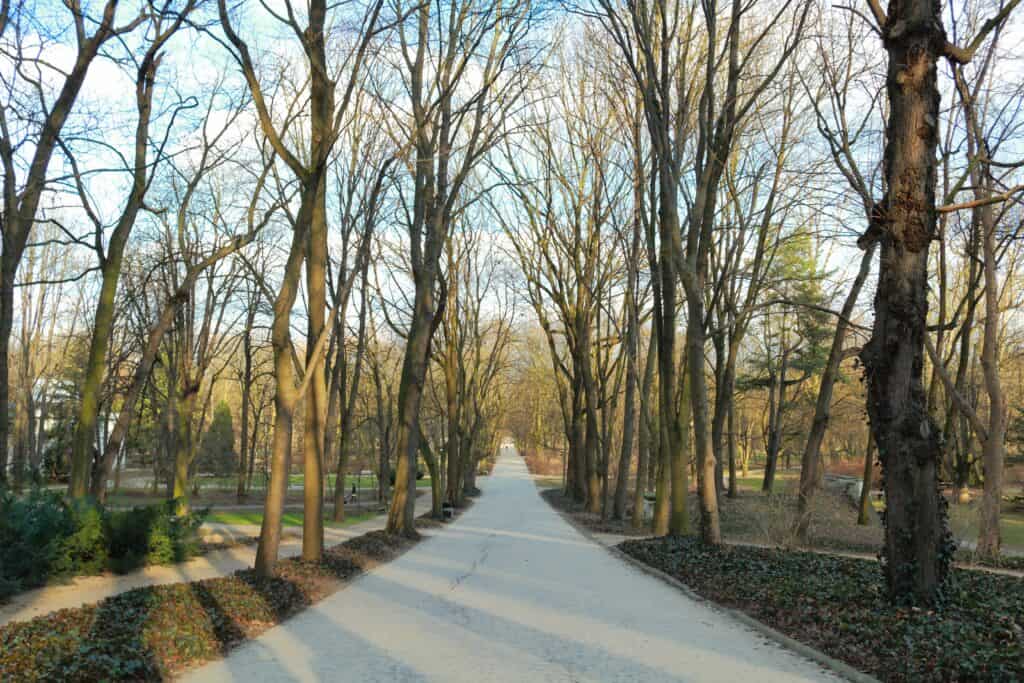 Panoramic View Of Warsaw – 1 hrs
Place of Culture and Science located in the center of Warsaw is by far the tallest viewpoint in Poland. The viewing terrace of the Palace of Culture and Science provides stunning panoramic views of Warsaw's cityscape, offering a unique vantage point to appreciate the architectural beauty and vibrant atmosphere of the city.
It will take you approximately 12 hours to complete all of the above. Days are long during summer, it doesn't get dark until past 9 pm. Most of the places are within walking distance, but to be more efficient, you can rent an electric scooter.
Best Food To Eat When You Have One Day In Warsaw
Travelling to a new destination is never complete without trying the local food.
Here is what you can eat in Warsaw.
Pączki for breakfast. Poles love donuts, maybe it is not the healthiest way to start your day, but then again, you are on holidays.
Pierogi. Dumpling with cheese or meat filling is a traditional Polish meal. All traditional restaurants will serve them.
Vodka. Leave it for the evening, but do try it. Polish vodka is considered one of the best in the world.
Night-Life in Warsaw
One day in Warsaw can turn into a day and night in Warsaw. During summer, the boulevards are buzzing with music, and the place becomes a night-out spot. For more fancy outing you can choose from a wide range of clubs and bars, Mazowiecka street is the place to start from.
While this itinerary provides a glimpse of Poland's capital and its historical treasures, the country has much more to offer. If you have more time, consider exploring other cities like Krakow, Gdańsk, or Wroclaw to discover even more of Poland's rich cultural heritage.
Read my other posts are Warsaw: