Poland is considered a cheaper country to travel to than the popular travel destinations in Western Europe (such as France, or Germany). The lower cost of living in the country has an impact on the tourism sector, making restaurant and hotel prices competitive in comparison with those behind the western borders.
The fact that the Polish currency is weaker than Euro is also in favor of the lower cost of traveling for tourists coming from Europe, or the USA. Let's get into details of what it really looks like, and is Poland cheap in fact?
Złoty – Gold In Poles Wallets
Polish Currency
The Polish currency is called złoty, and it means Złoty (golden). The name did not refer to a golden coin, but rather to the value of the coin weighted in gold.
You might often find PLN, instead of zloty (especially in nonpolish publications or in formal documents). This is the international name of Polish currency, just like USD, GBP, or EUR.
Currency Conversion Rate
Of course, currency rates are not stable and today's value might be irrelevant in a few months, however, it oscillates around these figures:
1 USD = 4 PLN
1 GBP = 5 PLN
1 EUR = 4,5 PLN
Is Poland Cheap -Traveling To Poland
You can arrive in Poland by plane, train, bus, ship, car, bike, or even on foot. Depending on where you are coming from. And as the way of transport varies, the same goes for prices behind it.
As for flight to Poland tickets, there are some excellent deals for traveling within Europe. Sometimes the ticket price is less than 5 Euro. However, on average, you can get tickets for about 30-50 EUR. Overseas destinations will cost around 250 Euros and up.
Cross-border buses and trains will have similar prices, and again depending on the distance, will cost from 10 to 80 Euro.
A ferry from the UK, Denmark, and Scandinavia countries, to come through the Baltic Sea, costs on average of 50-250 euros.
Is Poland Cheap – Accommodation
5* hotels and Top Resort
Hotels with names known internationally are cheaper in Poland in comparison to other European countries. Hilton, Sheraton, Radisson, and Marriott, all in top locations, are cheaper than the same brands in Lisbon, Majorca, Malta, Monaco, Dubrovnik, or Mykonos.
Price in Poland on average 200 -230 EUR Price in Europe on average 400-450 EUR.
Economy Class Hotels
The price depends greatly on the demand, attractions in the region, and the season as the same standard accommodation will vary in price. 3-4* hotels in Poland 40-70 EUR 3-4* hotels in Europe 80-150 EUR
Apartments are always a good bargain. They offer a very good standard, can accommodate bigger groups, and families, and the price reflects the quality.
On The Budget Nights
Hostels, dorms, or campsites are the cheapest accommodation. Worth to mention, that you can set your tent outside of camping sites.
As long the owner of the land is ok with it, and you are outside the city and National Parks, no one would ask you to leave. However. Even though Poland is a safe country, I would recommend sticking to dedicated places, always better to be safe than sorry (the rule is the same all over the world).
Hostel price in Poland is 10 EUR – and less
Hostel price in Europe is 20-40 EUR
Is Poland Cheap – Getting Around
It is fair to say, that there is still a lot to be done when it comes to Polish roads, to reach Western Europe standards. But saying that, I give a very big credit to public transport. Poland is well-communicated, and tickets can be bought online.
Public Transport
Trains – On average Poland is 3rd cheapest country in Europe after Latvia, Hungary, and Slovakia.
Flixbus – this is an affordable chain of buses connecting bigger cities in Poland and neighboring countries. The buses are of a high standard with very good online service.
City Transport – On average daily pass in Polish cities is 2 – 3 EUR.
TAXI/ Uber – just over 1 EUR/km in cities
Paid Highways-short sections are paid with a toll, but no vignette is required to drive in Poland.
Petrol – prices are among the lowest in Europe, at about 1,35 EUR
Electric Scooter – 05 EUR/ km
Is Poland Cheap – Groceries
It is noticeable that prices in bigger cities or in tourist destinations are a bit higher than in more rural areas. But the prices are still very affordable.
Local Beer from a Shop: 1-2 EUR
Water 1,5L – 0,70 EUR
Loaf of Fresh Bread: 1-1,5 EUR
Chocolate Bar:  1-2,5 EUR
Milk 1L – 0,90 EUR
Eggs -2 EUR
Ready-made pierogi – 2 EUR
Soft Drink bottle 2 EUR
Sausage – 4 Eur/ kilo
Is Poland Cheap – Eating Out
Polish kitchen is delicious, and Polish pierogi is a must-try dish. But, Poland offers a wide range of tastes and flavors. There is a strong representation of oriental taste, from Turkish kebab, and Chinese to a wide selection of sushi bars.
Fast food and popular takeaways prices:
Kebab – 4-5 EUR
Chinese food – 5-8 EUR
Pizza -10 EUR
Burger – 8 EUR
Drinks Out
Bottle of Beer – 3 EUR
Shot of vodka – 3 EUR
Glass of wine – 3,5 EUR
Juice – 2 EUR
Alcoholic Drink – 5 EUR
Fine restaurants are usually a bit more expensive in city centers and popular destinations. Average prices for a two-course meal are at 15-25 EUR per person.
Is Poland Cheap – Entry Admissions, Tickets
Most historical places, viewpoints, museums, and other tourist attractions require an admission fee. The tour guide is typically optional and offered by outside agencies.
Entry tickets price vary from 1 Euro up to 15 Euro, depending on the attraction. Royal Castles, Museums housing world-class art, are the most expensive end. But in general, the admission fee on average will be below 10 EUR.
Is Poland Cheap – Shopping Souvenirs And Keepsakes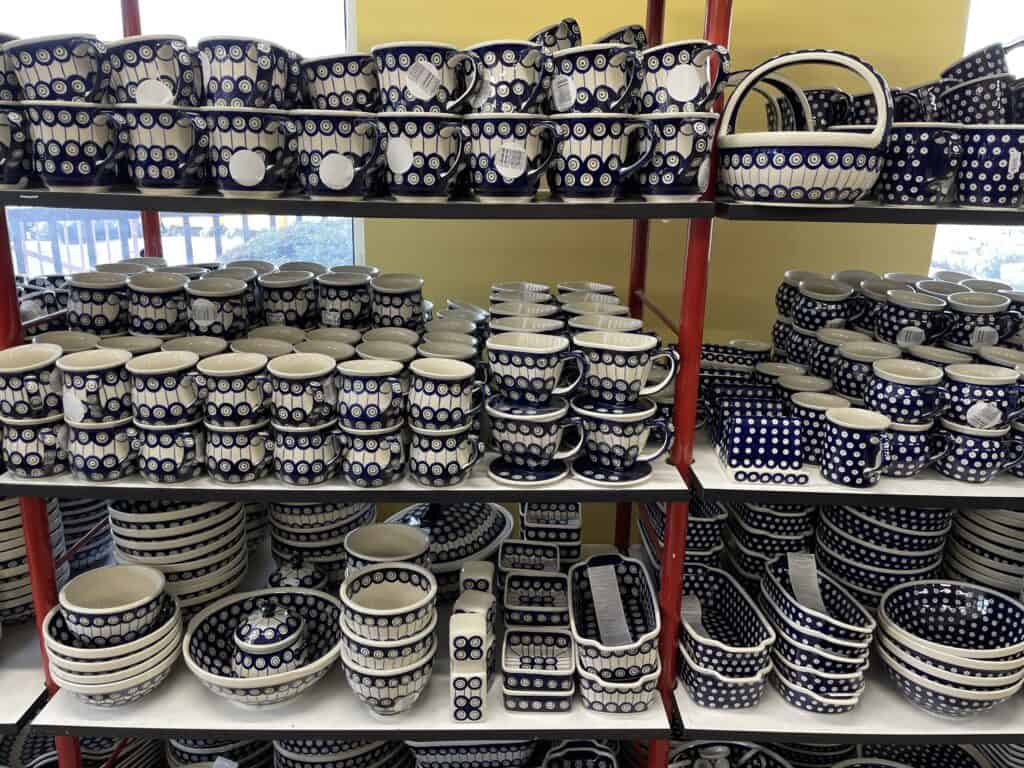 Setting a souvenir budget in Poland is not easy, as there are so many beautiful, handmade artifacts, that you would want to take a piece of each with you. Here are some most popular souvenirs to take home after a trip to Poland:
Amber (from a simple keychain to a piece of art) 10-500 EUR
Bolesławiec Pottery (the finest hand-decorated pottery in the world) 10-100 EUR
Hand Crafts (wood, sliver) 10-100 EUR
Fridge Magnets 1 -2 EUR
Clothes and accessories from 5 EUR
Is Poland Cheap – Sum Up
Yes! Poland is a cheap and affordable destination for most tourists, compared to other countries in the European Union. A budget of 1 thousand Euros is enough for one couple to cover a comfortable stay in a hotel, with traveling around, eating out, and shopping for goodies.
Helpful reads: